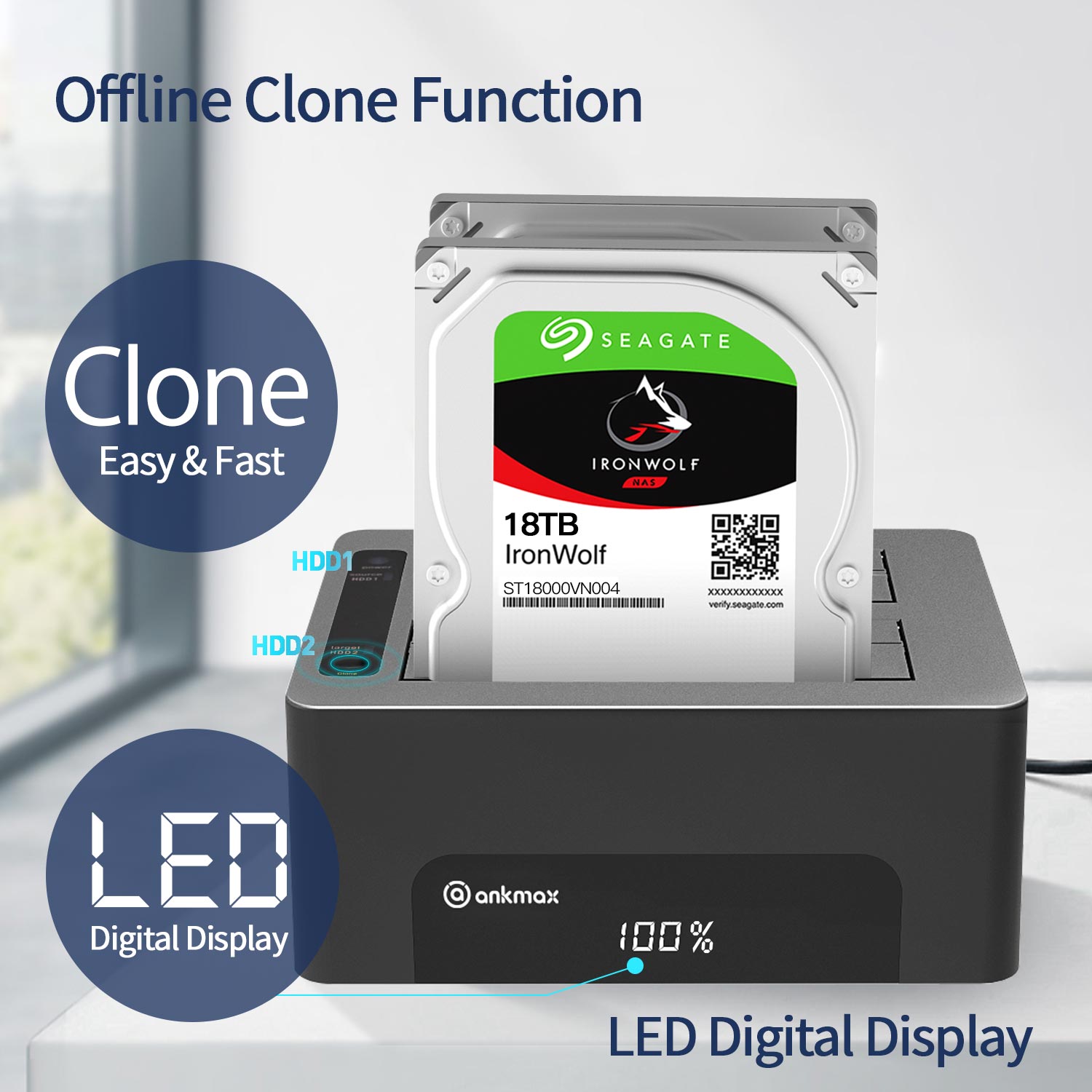 Up to 5Gbps Data Copy Speed
No need to connect to a computer, the cloning function of ANKMAX H2U30C can realize offline high-speed cloning from HDD1 to HDD2. The cloning speed of SSD can be as high as 485MB/sec, and the cloning speed of hard disk can be as high as 228MB/sec. The cloning time of 1TB HDD hard disk capacity is about 1 hour, while that of 1TB SSD only takes 30 minutes. The capacity of a single supported hard drive can be as high as 18TB.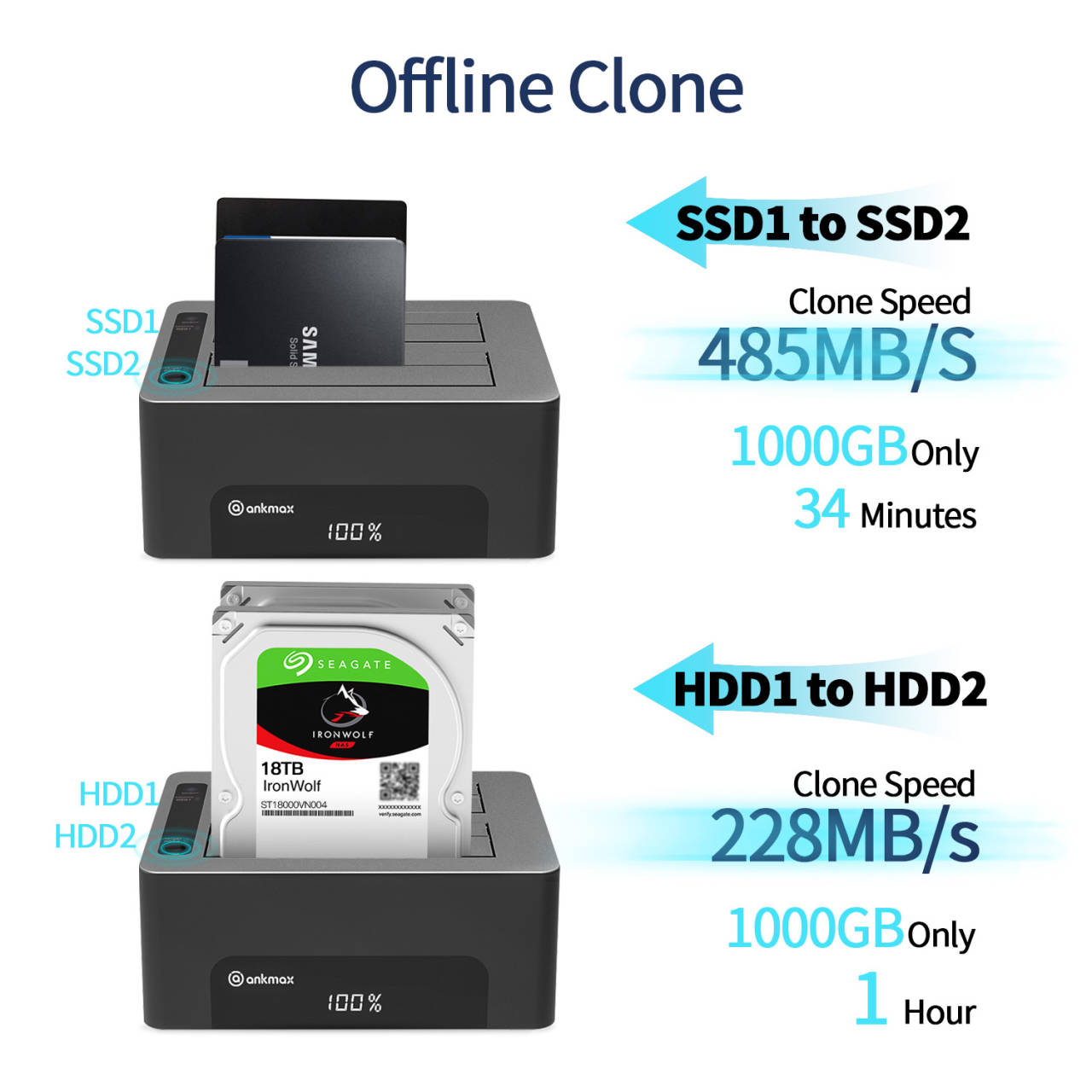 LED Digital Display
ANKMAX H2U30C is equipped with a digital LED display that can visually display the progress and status of data cloning between hard disks, making the progress of the cloning task clear at a glance, which is particularly convenient and safe. There is no need to pay attention to the inconvenience of each LED light status like other products.
High-speed Hard Drive Enclosure
In addition to the cloning function between hard disks, ANKMAX H2U30C is also a USB hard drive enclosure, which can support two hard disks to be used separately, and can be used to store daily files, photos, videos and other data. It supports hot-swappable hard drives, which is particularly convenient to use.
Driverless, Plug and Play
ANKMAX H2U30C uses USB 3.0 interface, no any driver required, supports MAC, Windows, Linux cross-platform operating system. It is fully compatible with the USB protocol, and can be used with any computer, TV, server, set-top box and other devices.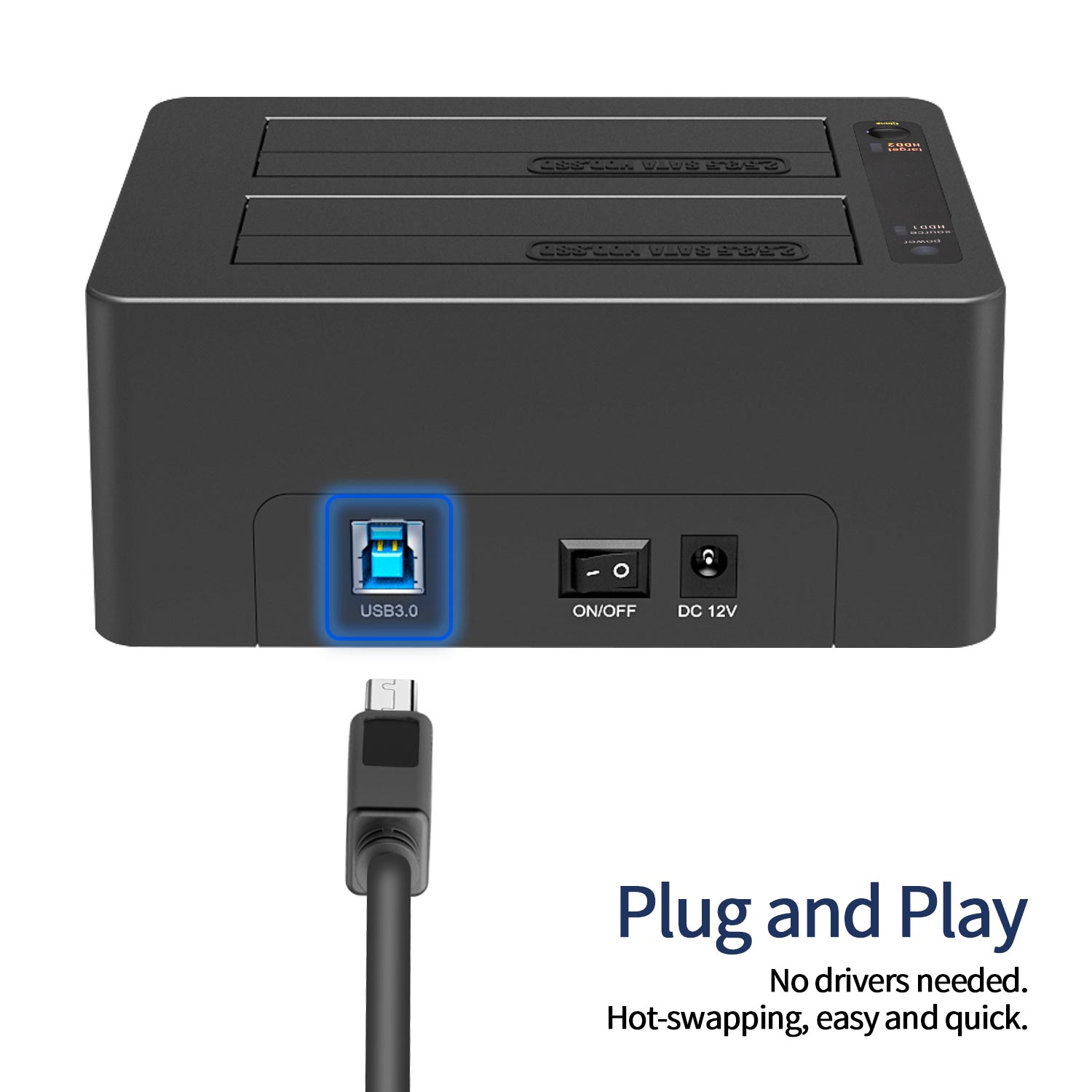 Plug and Play, Hot-swapping
The ANKMAX USB docking station supports all 2.5''/ 3.5'' SATA I/ SATA II / SATA III HDD SSD (up to 2 x 18TB); Plug and play, no driver needed, hot-swapping, easy and quick.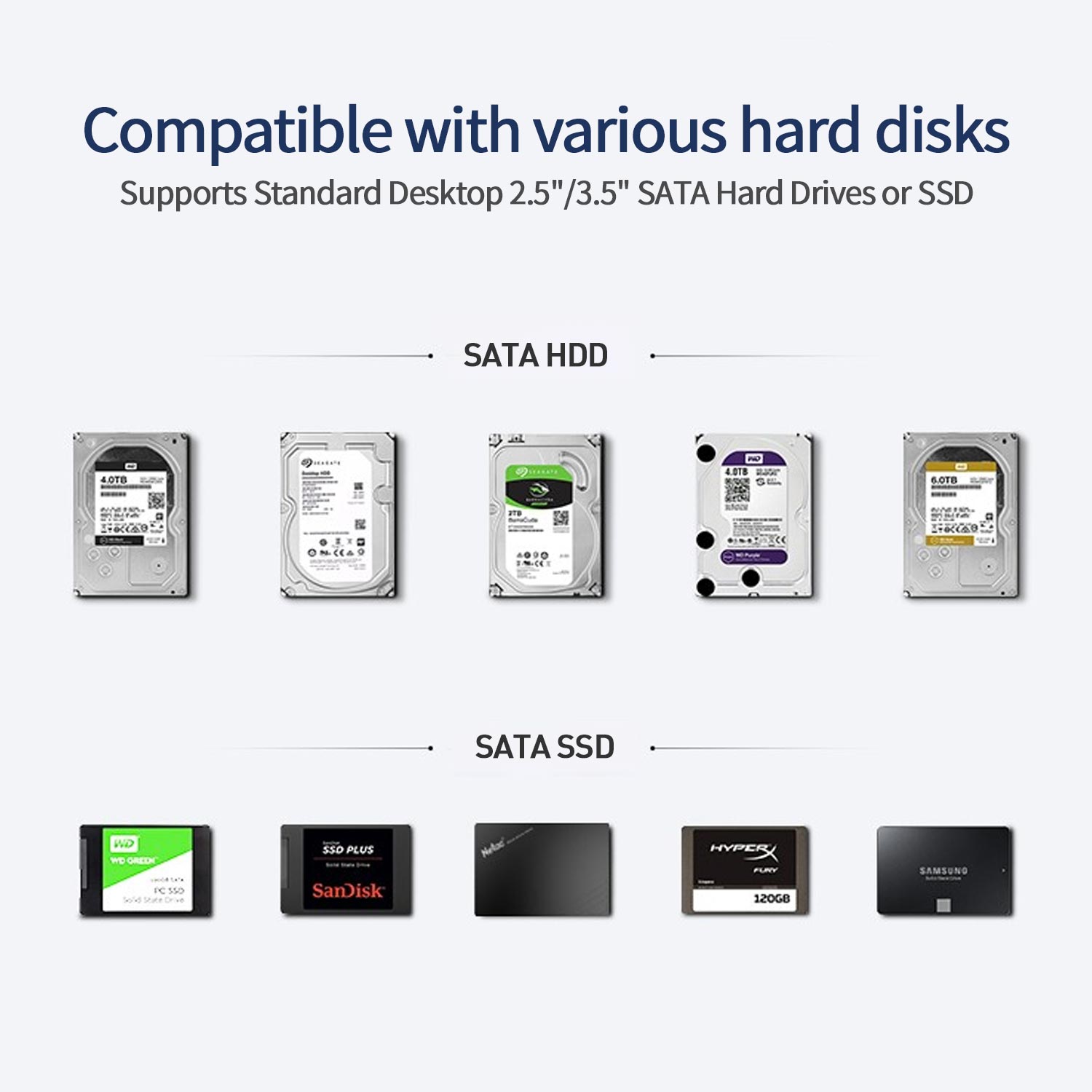 12V 4A High Current Adapter
With the continuous upgrade and expansion of hard disk capacity, the starting current required by the hard disk is getting larger and larger, especially when two large-capacity hard disks are inserted at the same time. ANKMAX H2U30C is equipped with a 12V 4A high-current adapter, which is enough to meet the subsequent upgrades of larger capacity hard drives without any worries.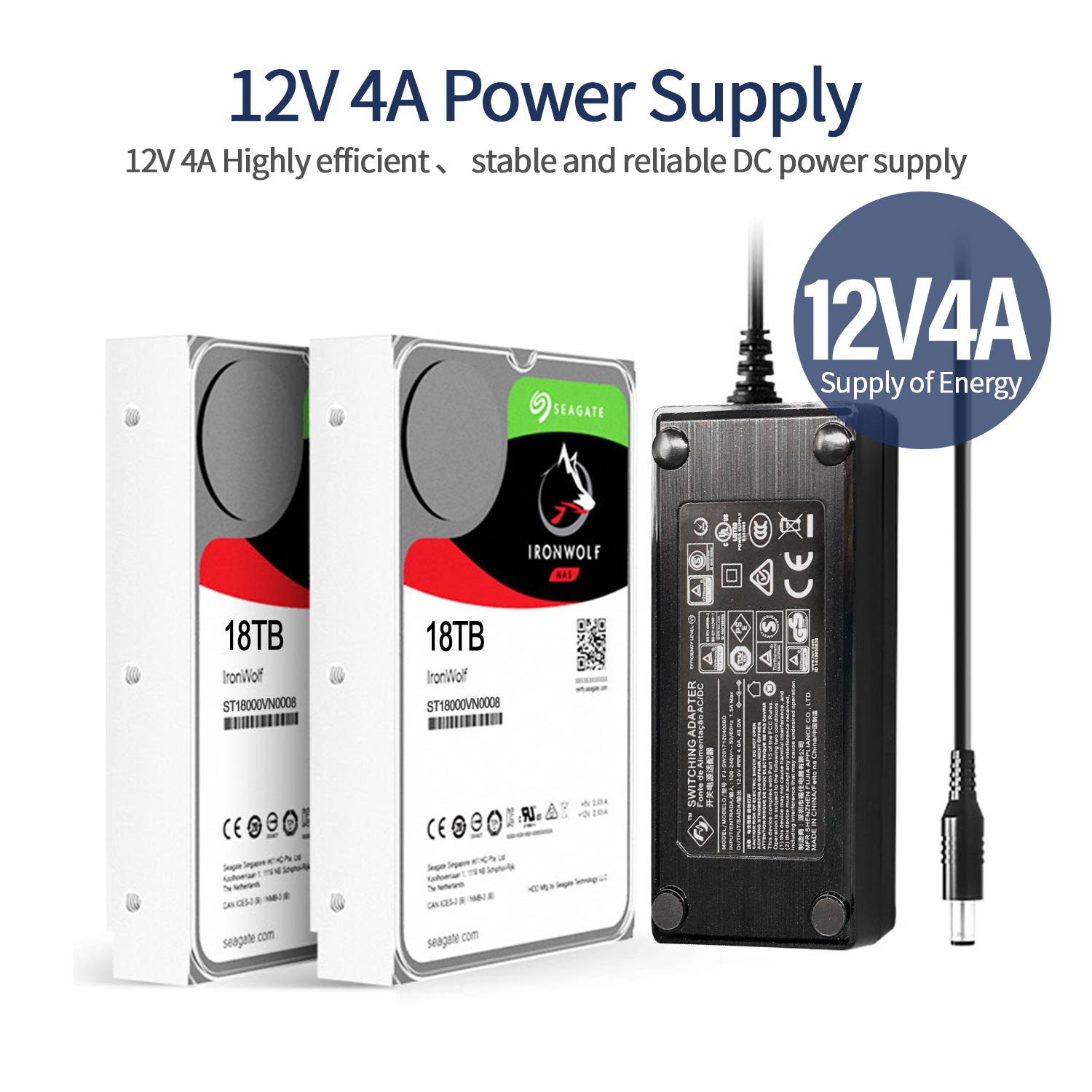 Better Protection
Each hard disk slot has a unique protective cover design, which can effectively prevent dust and foreign objects from falling in, and better protect the product.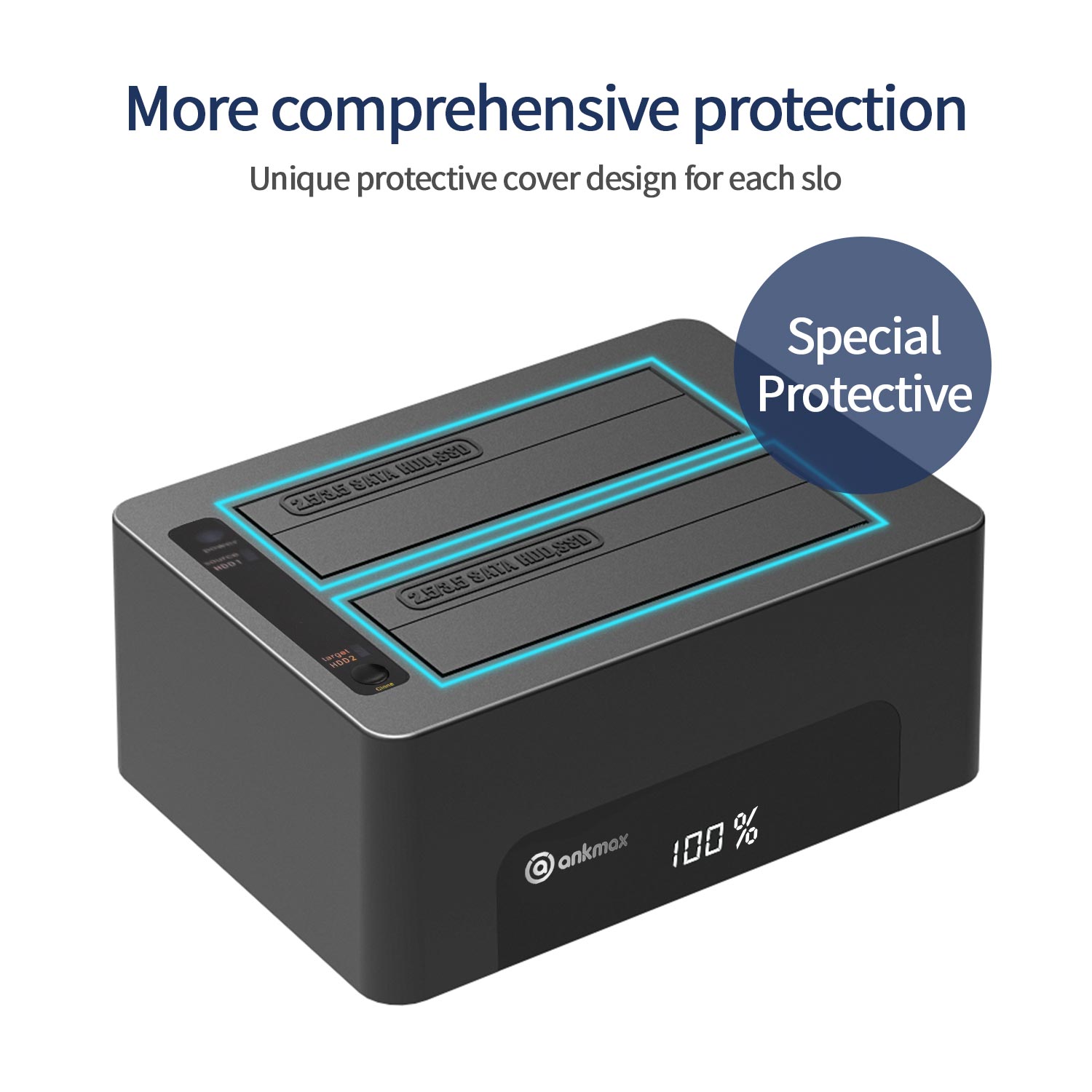 Broad Compatibility
Compatible with Windows XP / Vista / 7/8 / 8.1 / 10 (32/64 bit), Mac OS 10.10 or higher, Linux.
A USB C TO A adapter 10Gbps is provided, which can be used more conveniently on a computer with USB C or Thunderbolt 3 interface.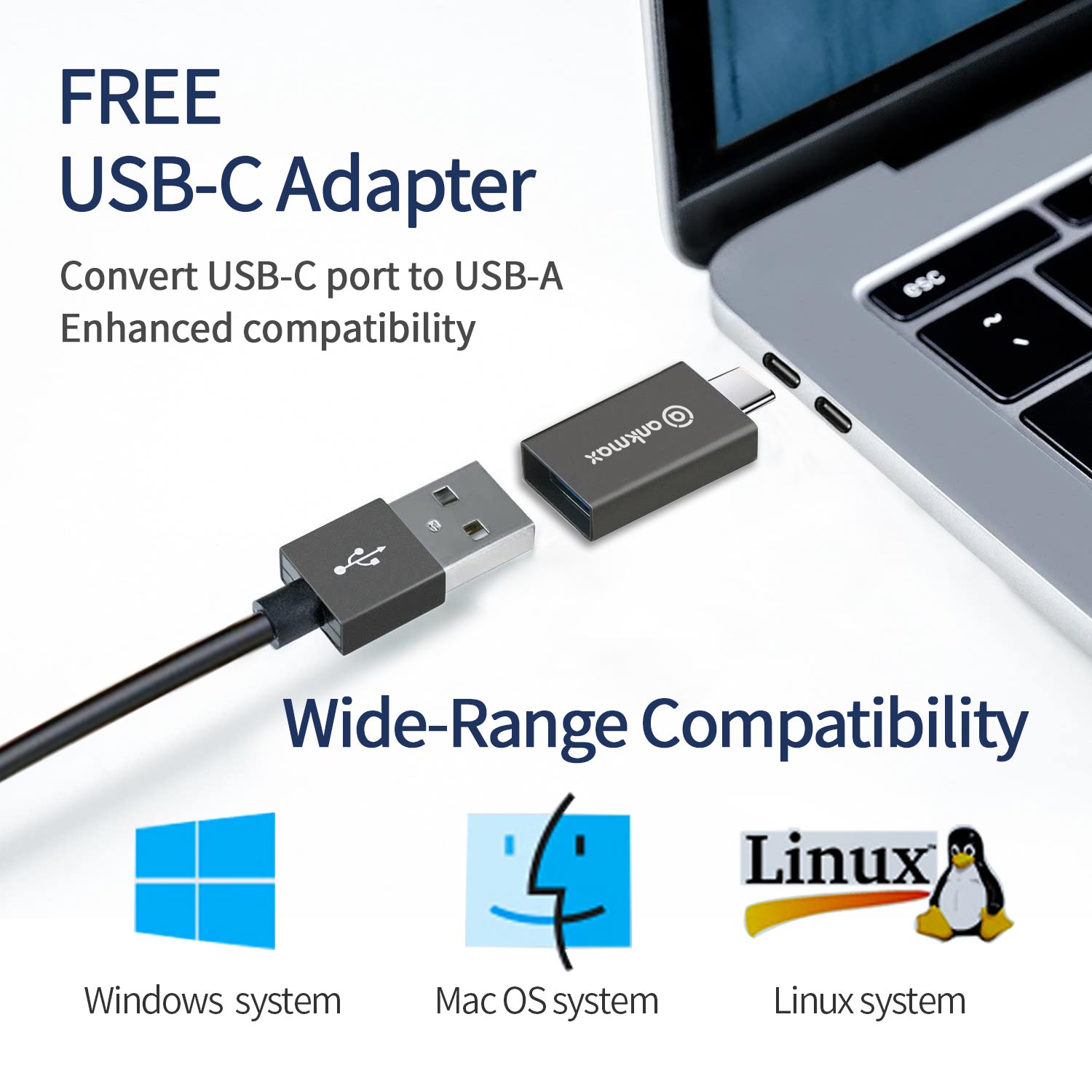 Note:
When HDD1 is cloned to HDD2, because all the data in HDD2 is exactly the same as HDD1, including the drive letter of the hard disk.
Therefore, the PC in Windows system only recognizes HDD1, and HDD2 is not displayed in my computer.
At this time, you need to right-click on the Computer and select Manage, click Disk Management, select the unrecognized hard disk HDD2,
Right-click and select Online to display the hard disk information of HDD2.