• More Connectivity
Equipped with USB 3.0 Type A and Type C plugs, the card reader can be used for free data exchange between memory cards and USB-A / USB-C / thunderbolt 3-capable PCs, laptops, mobile phones and tablets with OTG functions. With built-in USB 3.0 chips, the USB card reader delivers high-speed transfer rates of up to 5Gbps and allows HD movie in 1GB to transfer only seconds.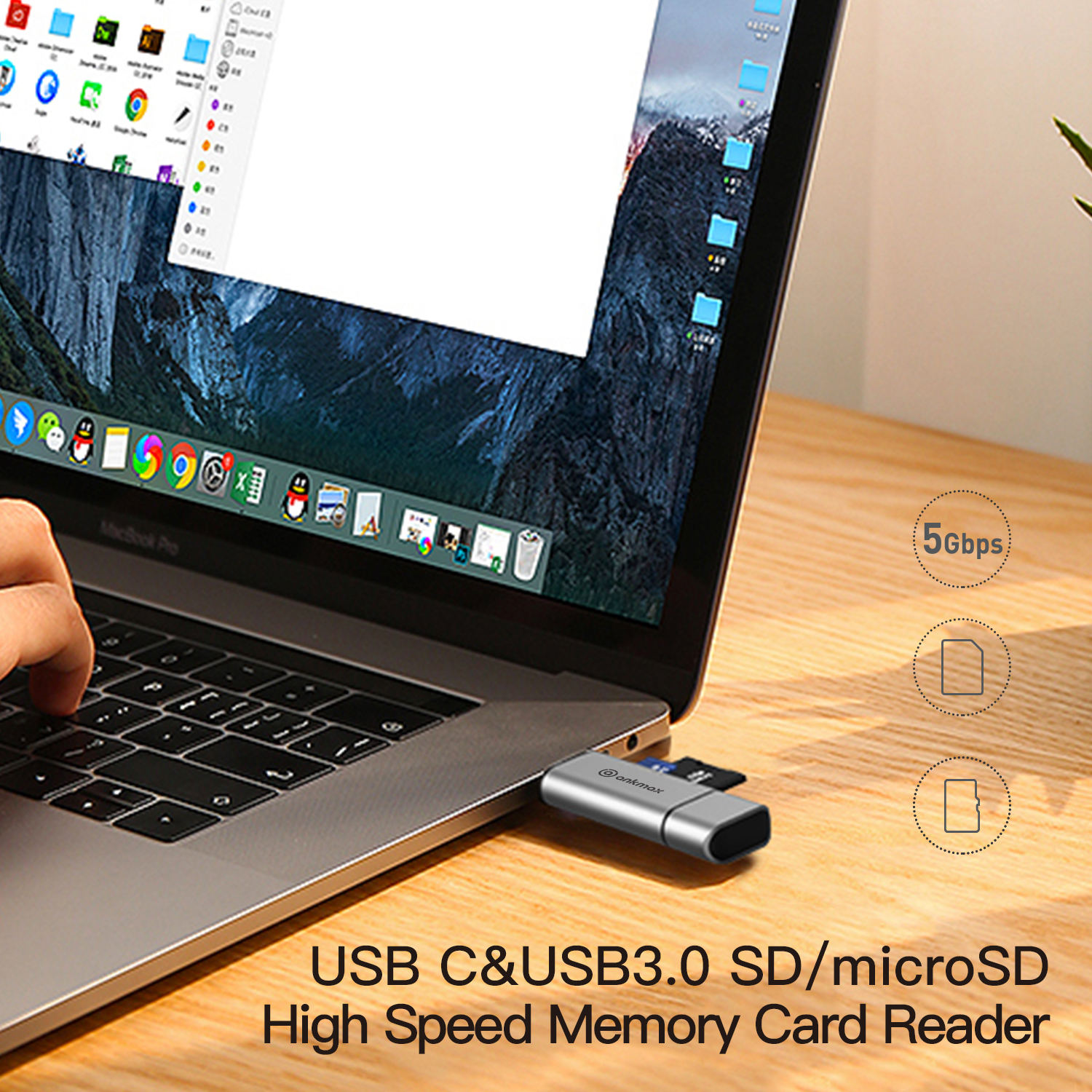 • Simultaneously Access to SD and Micro SD card
Both card slots can be used simultaneously especially when connected to a PC/laptop, you will receive more efficient data transfer and no longer waste long time to wait. The USB 3.0 USB C to SD Adapter supports all popular memory cards including SD, SDHC, SDXC, RS-MMC, MMC, Micro SD, Micro SDHC, Micro SDXC and UHS-I cards in large capacity up to 512G.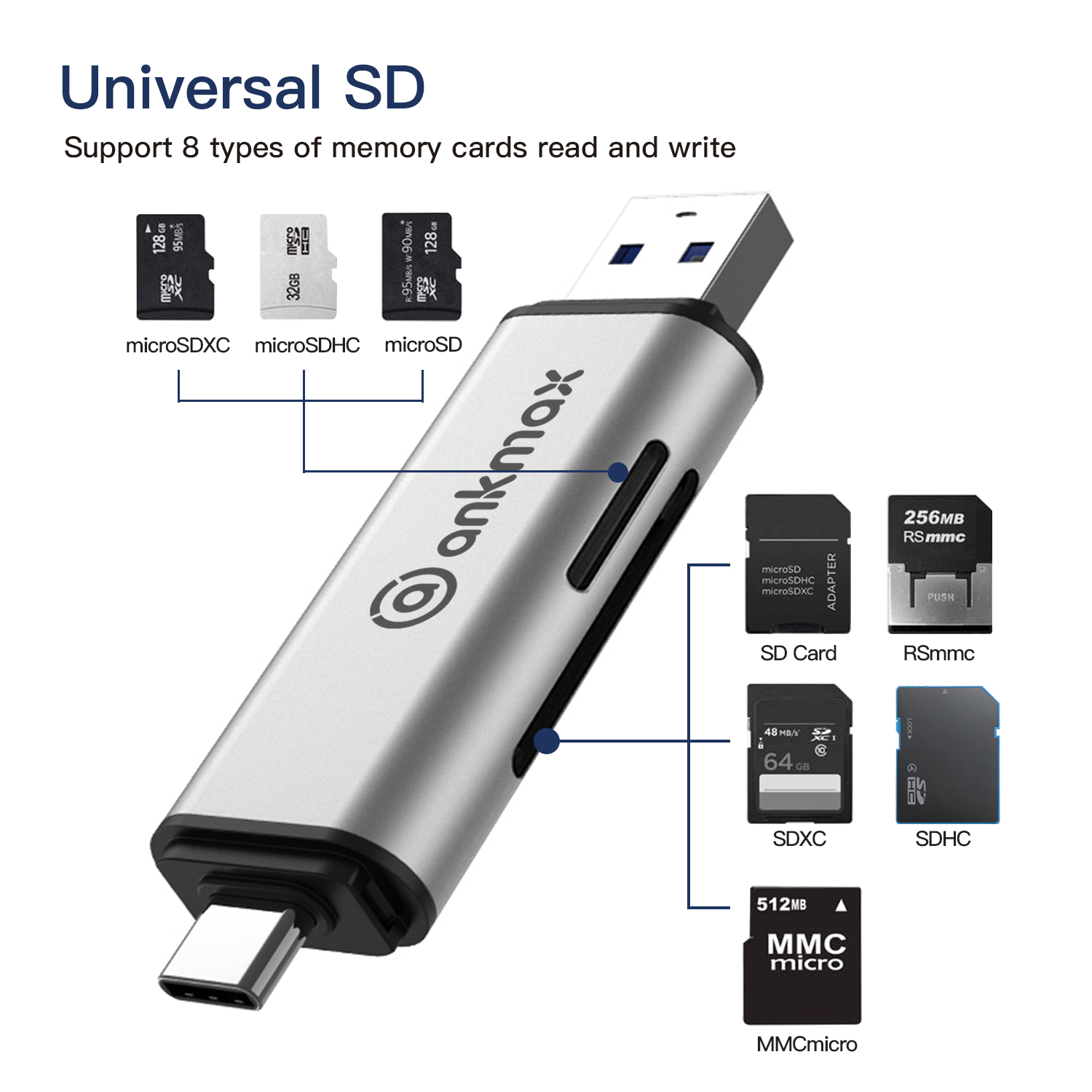 • Wide Compatibility
This Digital Memory Card Adapter is suitable for Samsung S10 S9 Plus S8 Plus Note 9 8, A3 / A5 (2017), A8 (2018); HUAWEI P20 Pro / P20 / P20 Lite, Mate9 / 10 / Mate 10 Pro, Honor8 / 9, P9 / P10 / P9 Plus / P10 Plus, Nexus 6P, Nova Plus, Grade 8; Sony Xperia XZ, Xperia XZ Premium; OnePlus: 2/3 / 3T / 5; Xiao Mi MIX2 / MIX2s, 6 / 5C / 5s / 5splus; MacBook Pro, MacBook, Dell XPS, Samsung Galaxy Book, Acer Switch Alpha 12, Lenovo Miix 510/520, Yoga520 / 720/900/910/920.
• Multi-function card reader compatible with OTG
It is a card reader that can be used by directly attaching it to a USB port and is compact and has the necessary and sufficient functions. Supports 512GB high capacity card and can read and write SD TF 2 card slot at the same time. You can shoot instantly, transfer instantly, store data beautifully, and free up the capacity of your smartphone! Equipped with USB Type-C and USB3.0 connector, it supports various models.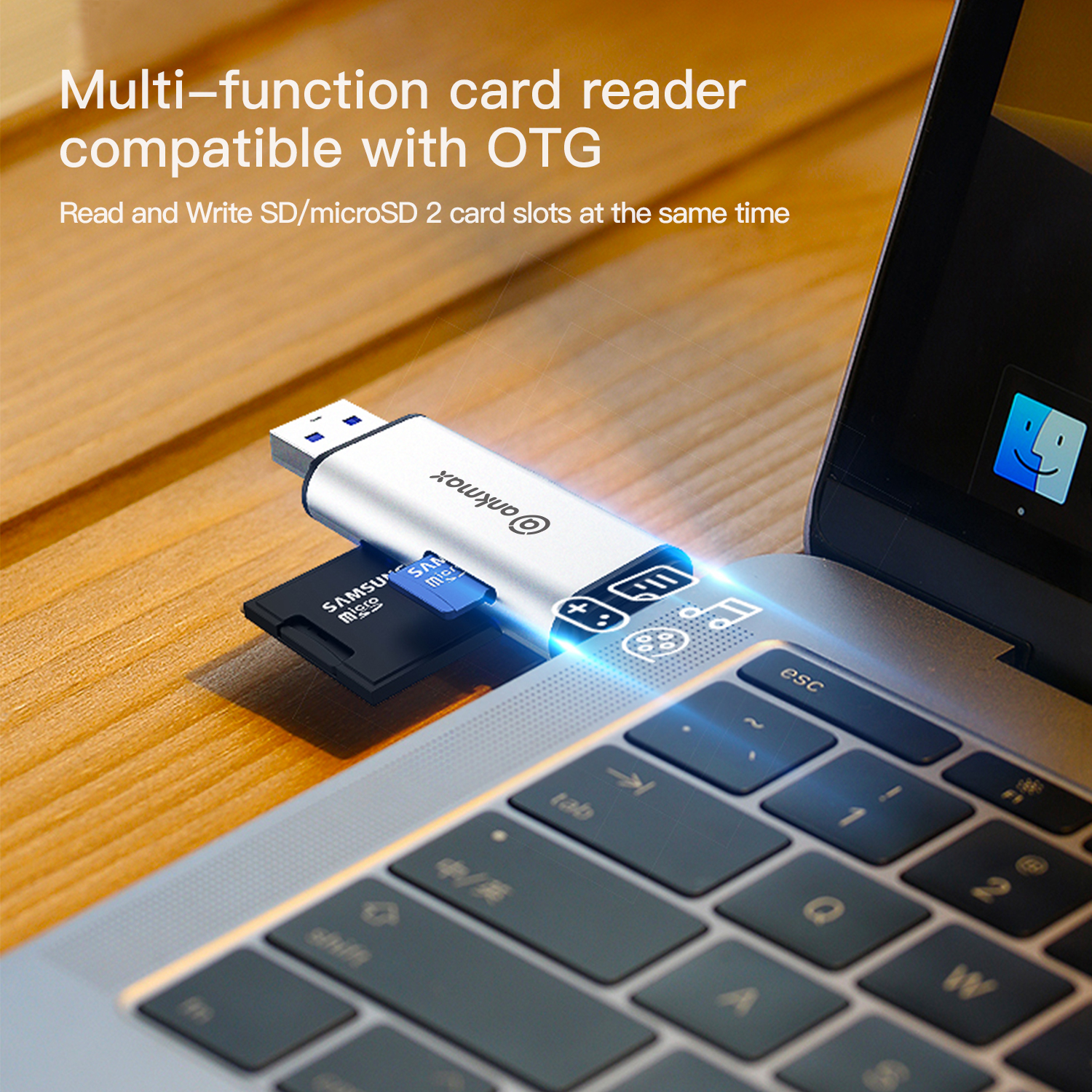 • Plug & Play
No driver installation required for Windows, Mac OS, Linux etc. Powered via USB or USB C plug, therefore no additional power needed. With overcurrent, overvoltage and short-circuit protection, the USB Card Reader USB C secures high safety for all connected devices and memory cards.
• Compact and Portable for on the go
The Micro SD TF Card Reader is designed with aluminum housing that works well on heat dissipation. Attached protective cap protects both connectors from unwanted contamination and dust. The friendly keychain wire on the card reader ensures anti-loss takeaway.
Note: for Micro SD card slot, pls insert/extract the card with one slight push.
•  Reliable Quality Assurance
This product has a 12-month warranty and can be used with confidence. You can also log in to the product registration page on the ankmax official website if you wish, and you will be given an additional 12 months warranty. If you have any problems with the product, please email us at support@ankmax.com.