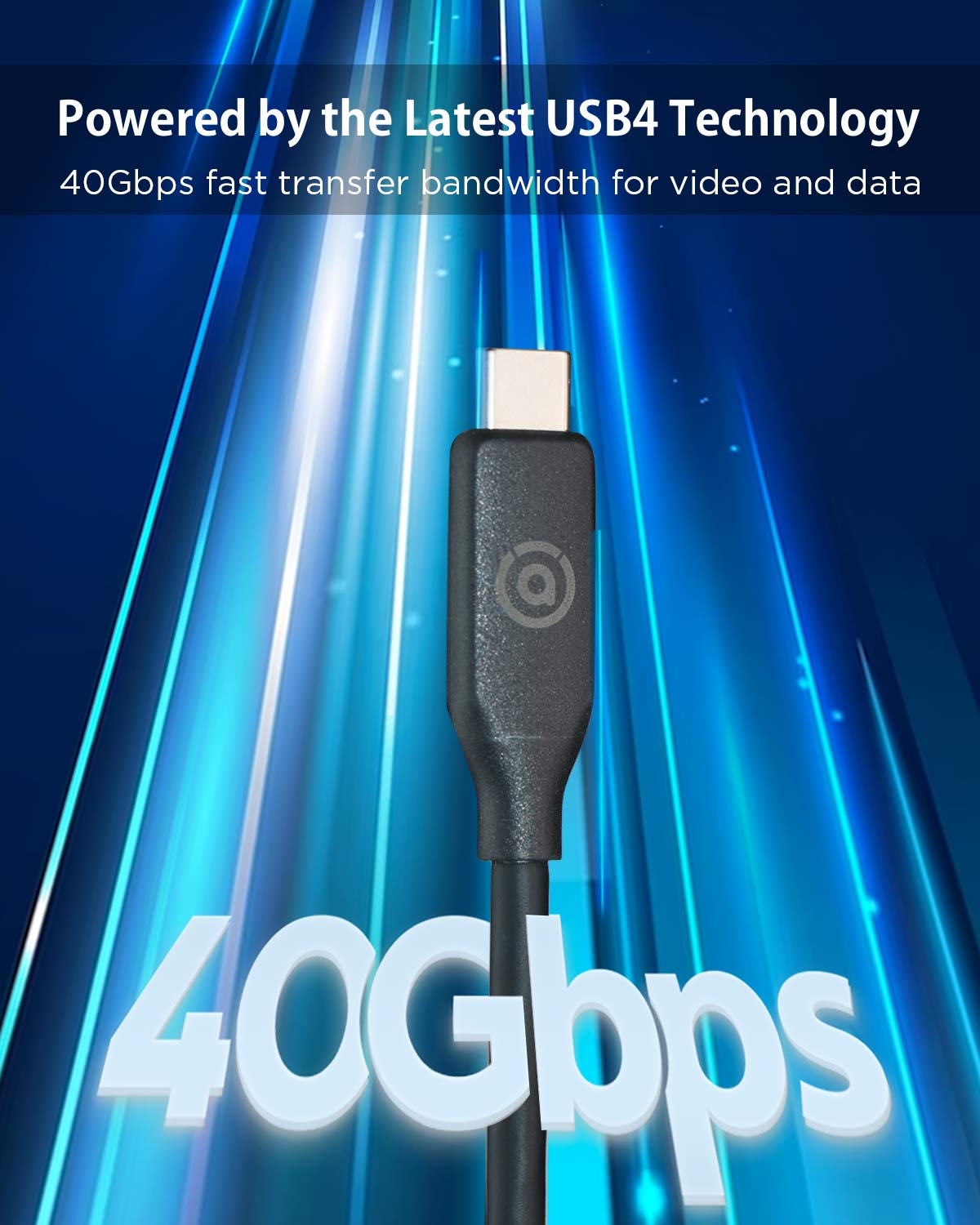 ​
Powered by the Latest USB4 Technology
The USB4 HUB is developed based on the USB4 standard, with a total bandwidth speed of up to 40Gbps. It features an HDMI video output port that supports ultra-high-definition video transmission of up to 8K at 60Hz and 4K at 144Hz. Additionally, it is equipped with a 2.5GbE network interface that provides a reliable wired internet connection of up to 2.5Gbps, which is 2.5 times faster than a standard 1Gb Ethernet adapter. It also has two USB-A ports, one USB-C port, and a total of three USB3.2 Gen2 ports with data transfer speeds of 10Gbps, which support the connection of peripherals such as mobile hard drives, USB flash drives, mice, keyboards, printers, and scanners. This creates a lightweight and portable high-speed expansion center for users.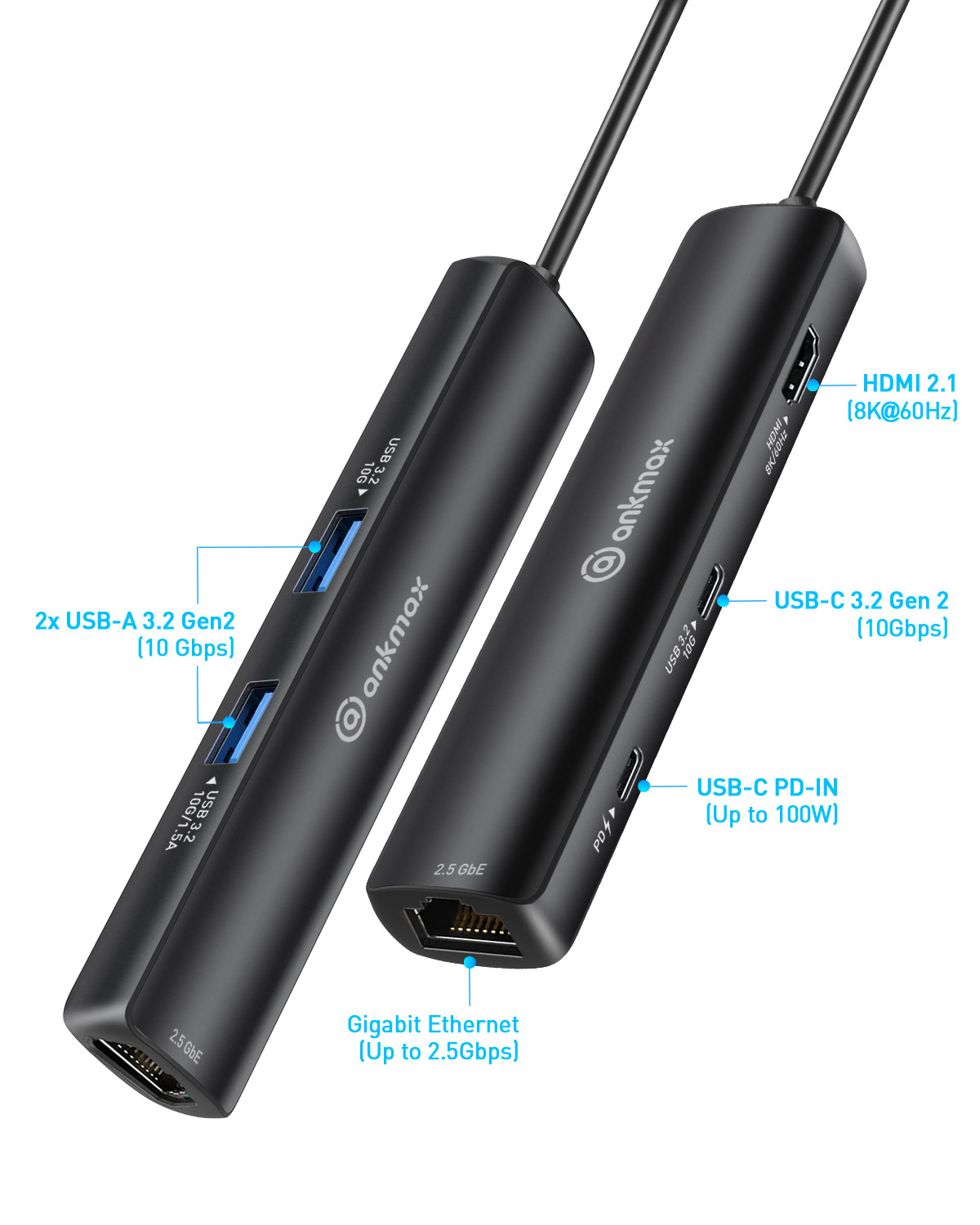 ​
8K Ultra-High Definition Video Output
The USB4 HUB comes equipped with an HDMI video output port that supports ultra-high-definition video output of up to 8K at 60Hz, with a resolution of 7680x4320, providing four times the clarity of 4K. With this feature, users can easily project high-quality videos onto large ultra-high-definition screens with clear and smooth images. Moreover, the ultra-high bandwidth allows it to simultaneously transmit 10Gbps of data even when transmitting 8K@60Hz video.
240Hz Ultra-High Refresh Rate
A conventional 60Hz refresh rate is not enough to meet the high frame rate needs of gamers, especially for 3A games and FPS players who demand high frame rates. The USB4 HUB supports ultra-high refresh rate transmission specifications such as 4K@144Hz and 1080@240Hz, which can provide a smooth and enjoyable gaming experience for gamers.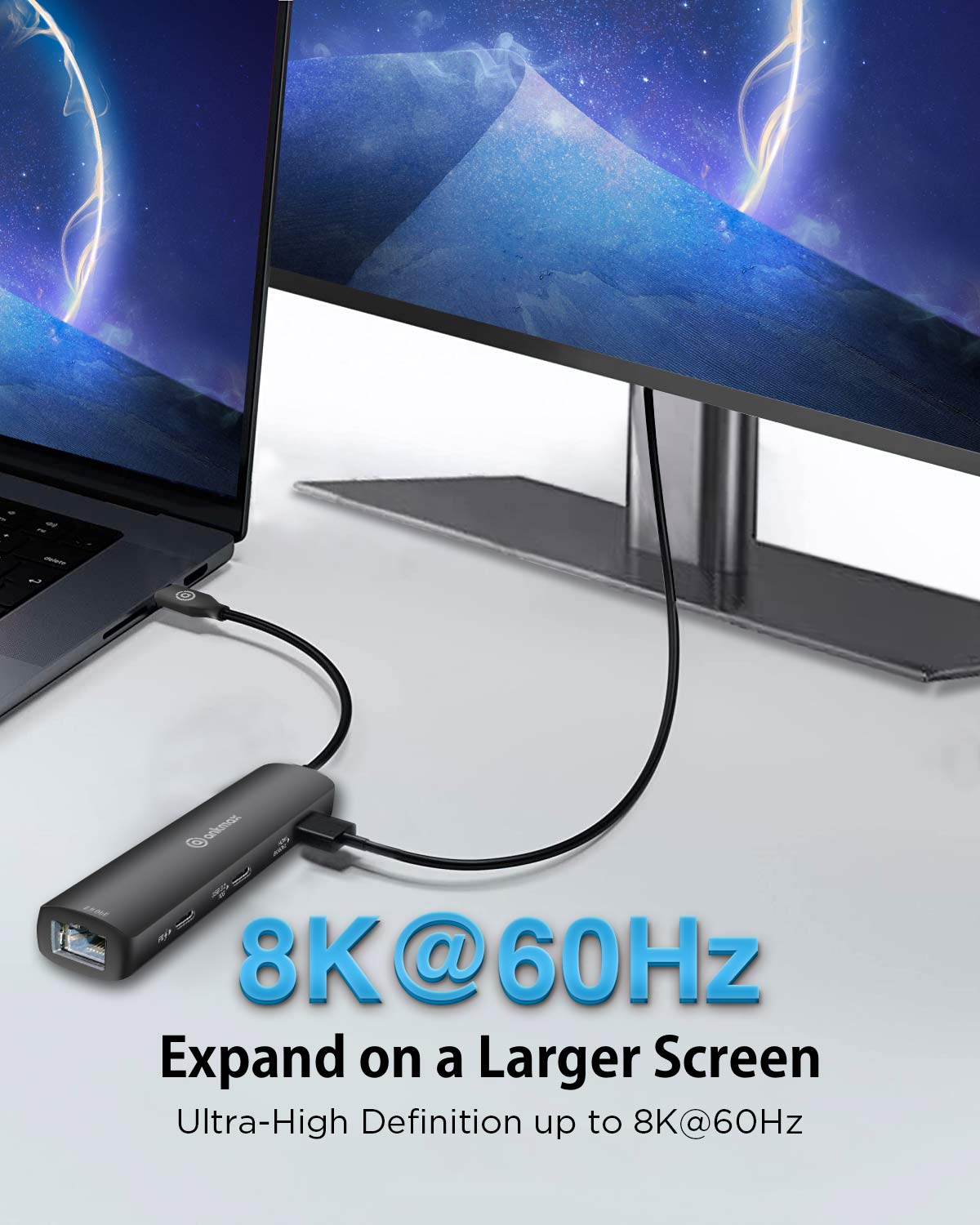 ​
2.5Gbps High-speed Network Transmission
The USB4 HUB supports the latest 2.5GbE interface, allowing you to enjoy high-speed and reliable internet up to 2.5Gbps by connecting your USB-C device to the adapter. It's plug-and-play, simply connect the Ethernet cable to the adapter and insert the adapter into your laptop for instant connection.
​
High-speed data transfer with USB3.2 10Gbps
In addition to transmitting ultra-high-definition and high-speed video signals, the USB4 HUB also has three USB data ports, two USB-A and one USB-C, all of which support USB3.2 Gen2 10Gbps speed, with data transfer speeds of up to 940MB/s. They can also connect to common peripherals such as mice and keyboards, adding multiple expansion ports to laptops.
The USB-C data port works as a data port only,it will not support video output.
​
PD-IN 100W 
The PD-IN port provides powerful pass-through charging for laptops or tablets, with a maximum charging power of 100W. It also features 2 USB-A and USB-C ports for charging other devices.
​
Compact and Portable Size
The USB4 HUB has a total transfer speed of 40Gbps and is compatible with Thunderbolt 4, Thunderbolt 3, and standard USB Type-C interfaces. It features a flat, rectangular design with dimensions of 142mm X 30.5mm X 18mm, making it very compact and convenient for on-the-go use, suitable for a variety of occasions such as meetings, presentations, business travel, and speeches.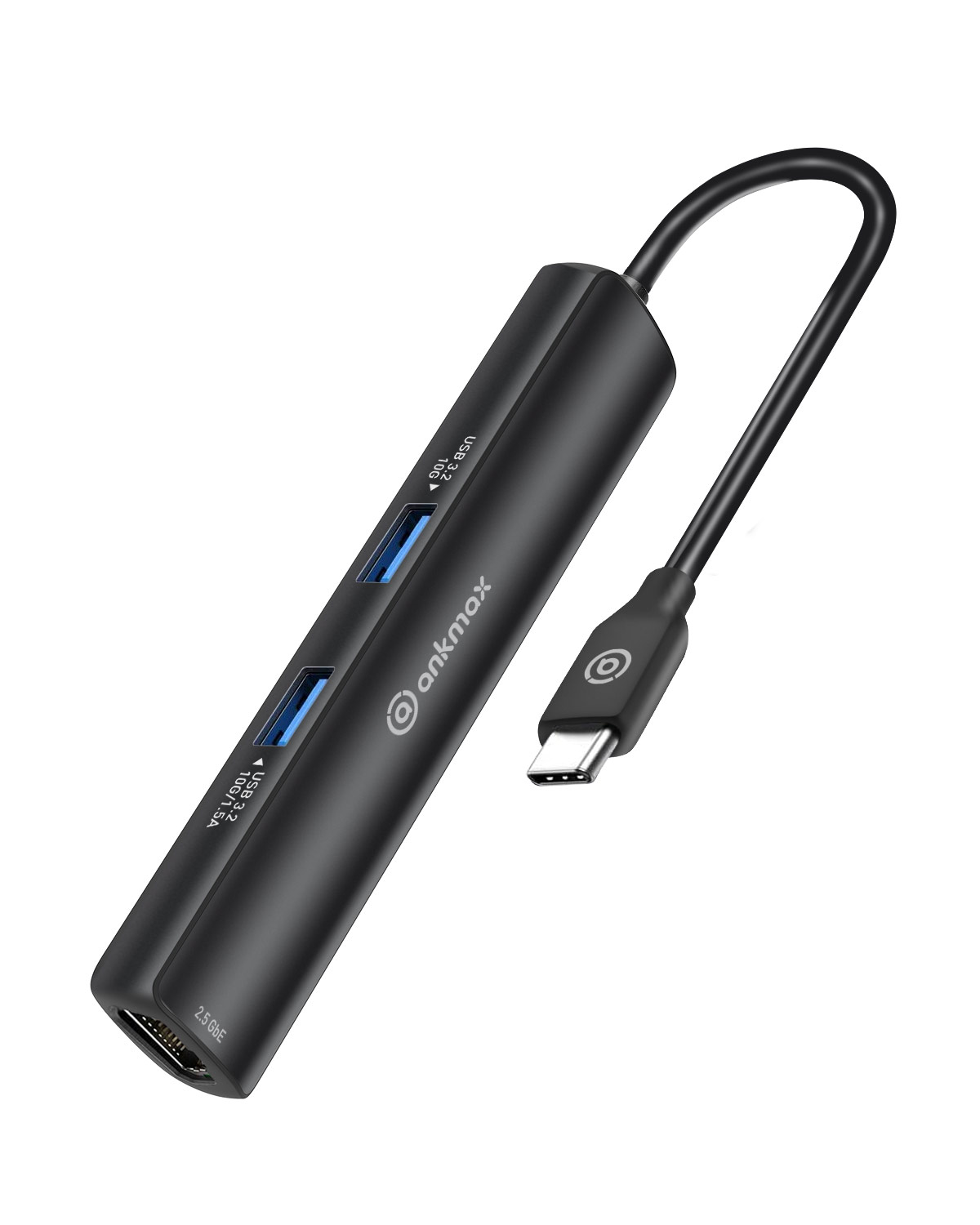 ​
Combining Elegance and Power in One
Design is at the core of Ankmax. This USB4 HUB combines the latest 8K HDMI technology with 2.5GbE network transmission performance. Its compact size makes it easy to carry for meetings, presentations, business trips, speeches, and more. The high-quality aluminum casing provides excellent insulation and durability.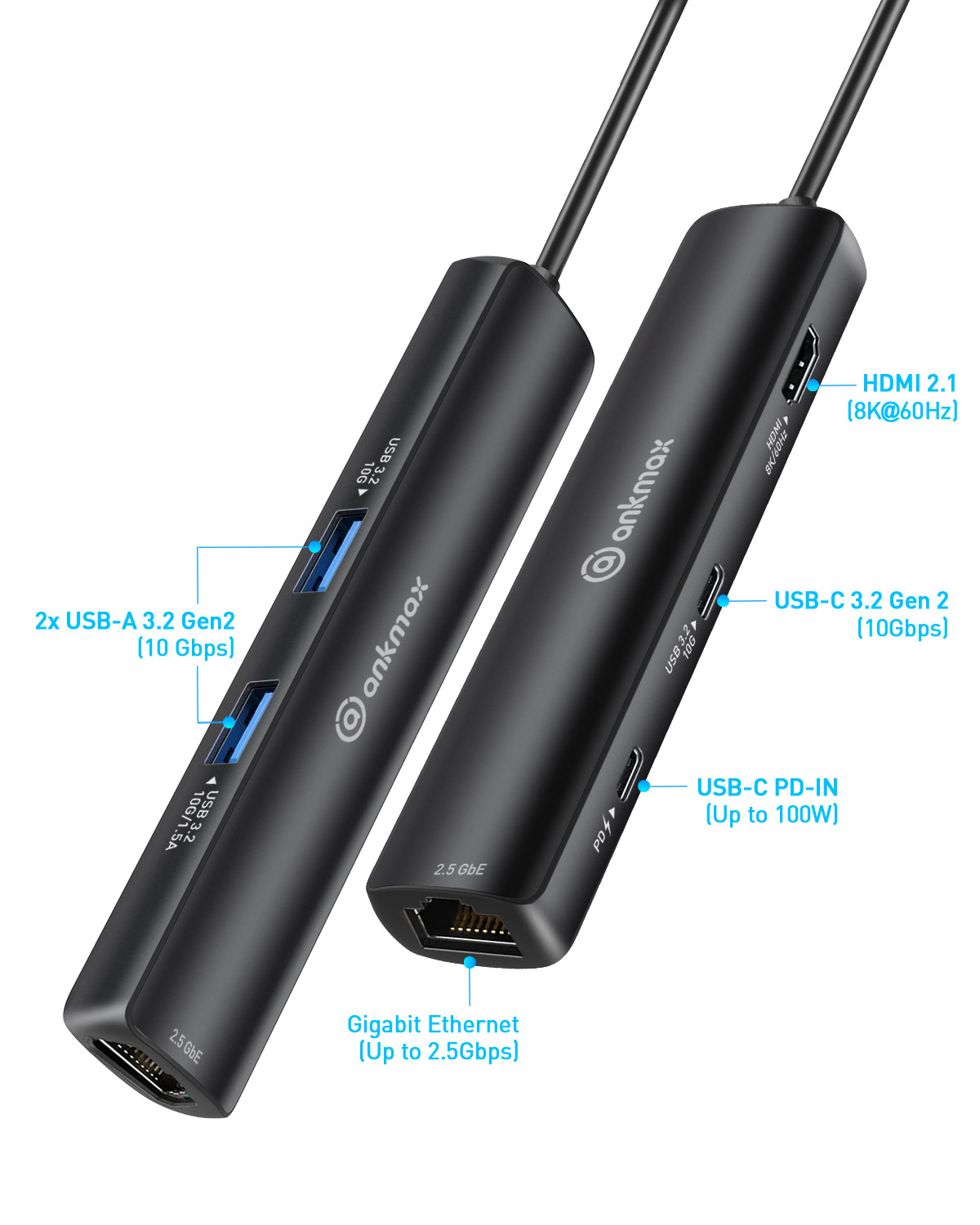 ​
Main Features and Benefits
· Connect up to 6 devices simultaneously
· 8K HDMI video output for clear and vivid image quality
· 2.5Gigabit Ethernet port for fast and reliable internet connectivity
· 100W Power Delivery power supplied by 1 USB-C cable
· Optimized charging of USB-C devices with Power Priority technology
Important Notes
The USB-C PD port offers up to 100W charging speed and it uses ~15W for self-power. Video output not supported.
The USB-A port allows you to transfer data at up to 10Gbps speed and it's not recommended to be used for charging devices.
The USB-C data port works as a data port only. It will not support video output or pass-through charging.
Requires direct HDMI connection. Computer, cable and monitor need to support 8K protocol for full 8K support. Note: macOS supports up to 4K at 60Hz.
Limited by the macOS, via a USB C to HDMI hub, we can get a max resolution of 4K 60Hz. All Macbook, Macbook Pro, and Mac Mini with Apple M1 or Intel chips can only support a maximum resolution of 4K@60 Hz, and this USB C hub doesn't support VRR.
Compatible with
MacBook Pro M2 (2022), MacBook Pro M1 Pro & Max (2021), MacBook Pro M1 (2020), MacBook Pro (2016 & Newer)
MacBook Air M2 (2022), MacBook Air M1 (2020), MacBook Air (2018 & Newer)
iMac M1 (2020), iMac (2019 & 2017), iMac Pro
iPad Pro M1 (2021), iPad Pro (2018 & Newer)
iPad Air M1 (2022), iPad Air (2020)
Also, downwards compatible with other laptops supporting Type-C, Thunderbolt 3, Thunderbolt 4, or USB4 interface.