Comparison of the latest NVMe PCIe5 SSDs
Recently, several SSD manufacturers have released news for their next-generation PCIe Gen 5 SSD controllers, including Phison (E26), Silicon Motion (SM2508), Samsung (PM1743), InnoGrit (IG5666) , Marvell (MV-SS1331 and MV-SS1333) and Japanese of Kioxia, ect manufacturers, They are all actively developing PCIe 5.0 SSD master control.
In the future, we are expected to see the latest PCIe Gen 5 SSDs in the high-end product lines of Samsung, ADATA, APACER, TeamGroup, Kioxia, Corsair, Seagate, WD and other manufacturers.
The market has released the brand and model of the latest PCIe5 SSD product information are as follows: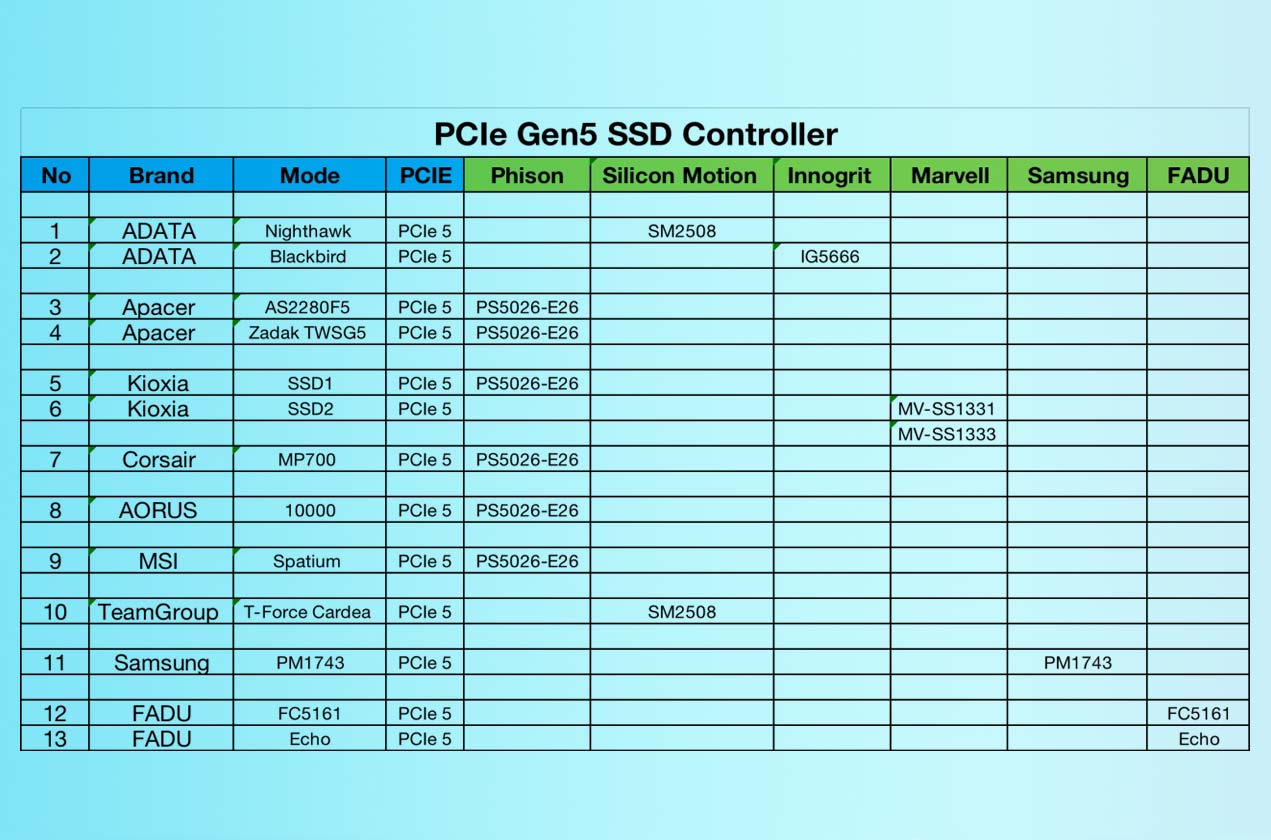 ​
· Two ADATA PCIe Gen5 SSDs: Nighthawk (Silicon Motion SM2508) and Blackbird (Innogrit IG5666),
· Apacer AS2280F5 and Zadak TWSG5 PCIe Gen5 SSD (Phison PS5026-E26),
· Kioxia PCIe Gen5 NVMe SSD (Phison PS5026-E26)
· Corsair MP700 Gen5 PCIe x4 NVMe 2.0 M.2 SSD (Silicon Motion SM2508)
· AORUS Gen5 10000 NVMe 2.0 M.2 SSD (Phison PS5026-E26)
· MSI Spatium PCIe Gen5 NVMe SSD series is Phison PS5026-E26
· TeamGroup T-Force Cardea PCIe Gen5 SSD (Silicon Motion SM2508).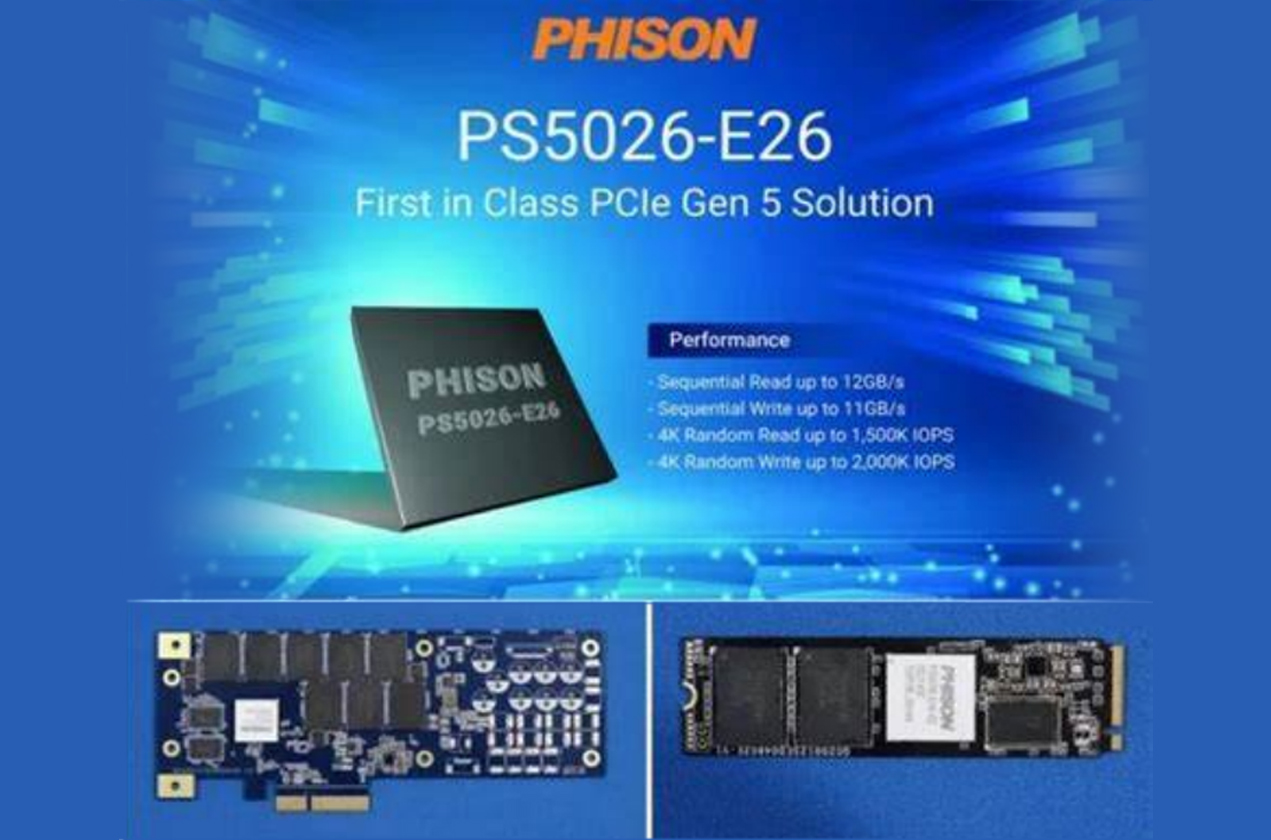 ​
Phison PS5026-E26 delivers 1.31 million random read IOPS and 1.16 million random write IOPS; a balanced read and write performance profile. But these IOPS numbers are lower than the SK hynix Platinum P41 drives using PCIe 4; an odd result. Its sequential bandwidth goes back to the benefits of PCIe 5 -- 13,500 MB/s for reads and 12,000 MB/s for writes -- again a balanced picture with no read optimization to speak of.
Phison's PS5026-E26 controller features 2 Arm Cortex-R5 cores and 3 Phison CoXprocessor 2.0 accelerators. It supports TLC and QLC format NAND with capacities up to 32TB, as well as ZNS, SR-IOV, ONFI 5.x, Toggle 5.5 and NVMe v2.0 standards.
Two Kioxia CD8 drives have slightly slower random read IOPS than Phison rig,1.25 million, but slow random write IOPS at 200,000. They are in sequential bandwidth, 7,200 MB/s read and 6,000 MB/s write (PCIe 4 field) is seriously insufficient,And it looks like it will be surpassed.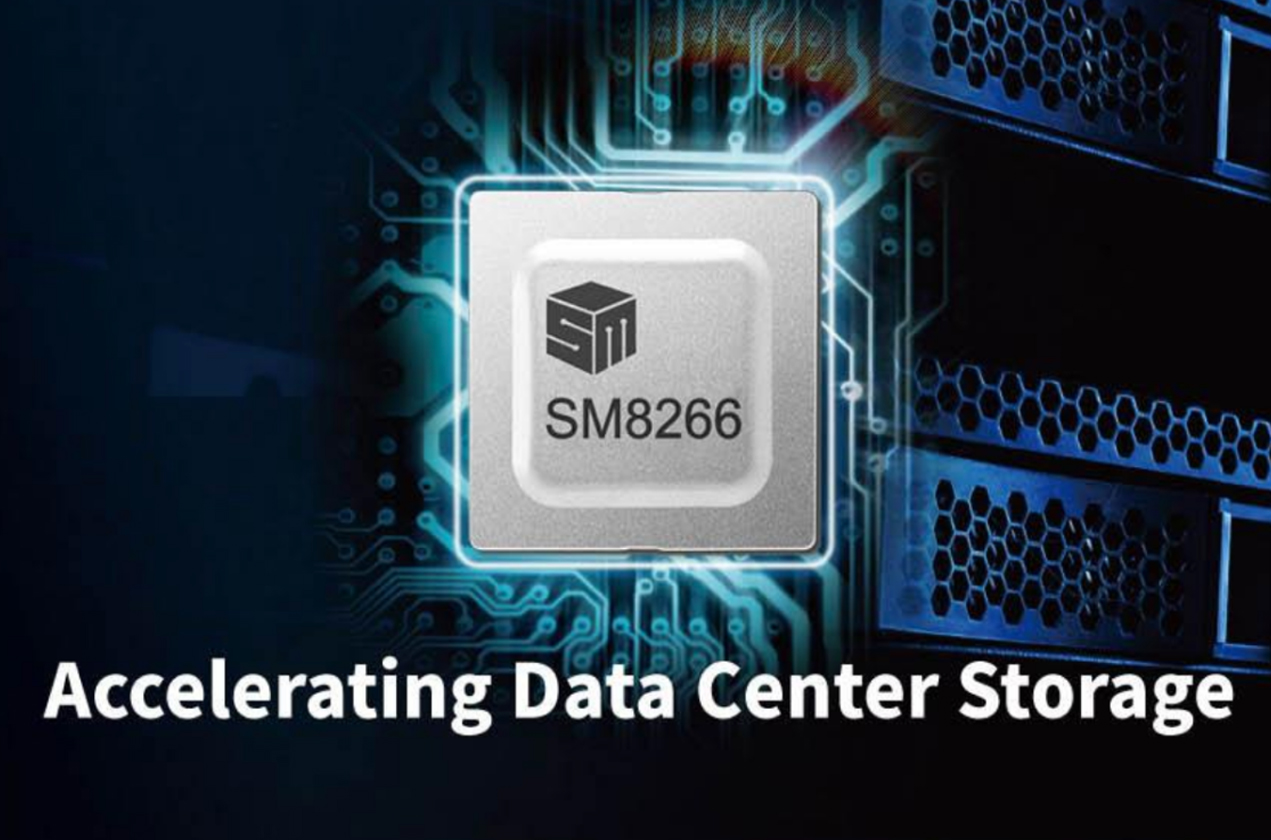 ​
​
Silicon Motion PCIe Gen 5 SSD controllers from Silicon Motion will sample later this year: SM2508 high-end SSD in late 2022, SM8366 controller for enterprise in 2023, SM2507 mainstream SSD for consumer in 2024.
Silicon Motion PCIe 5.0 NVMe SSD promises 14GB/s bandwidth. Silicon Motion does not manufacture off-the-shelf consumer drives. That task is left to partners such as ADATA and TeamGroup.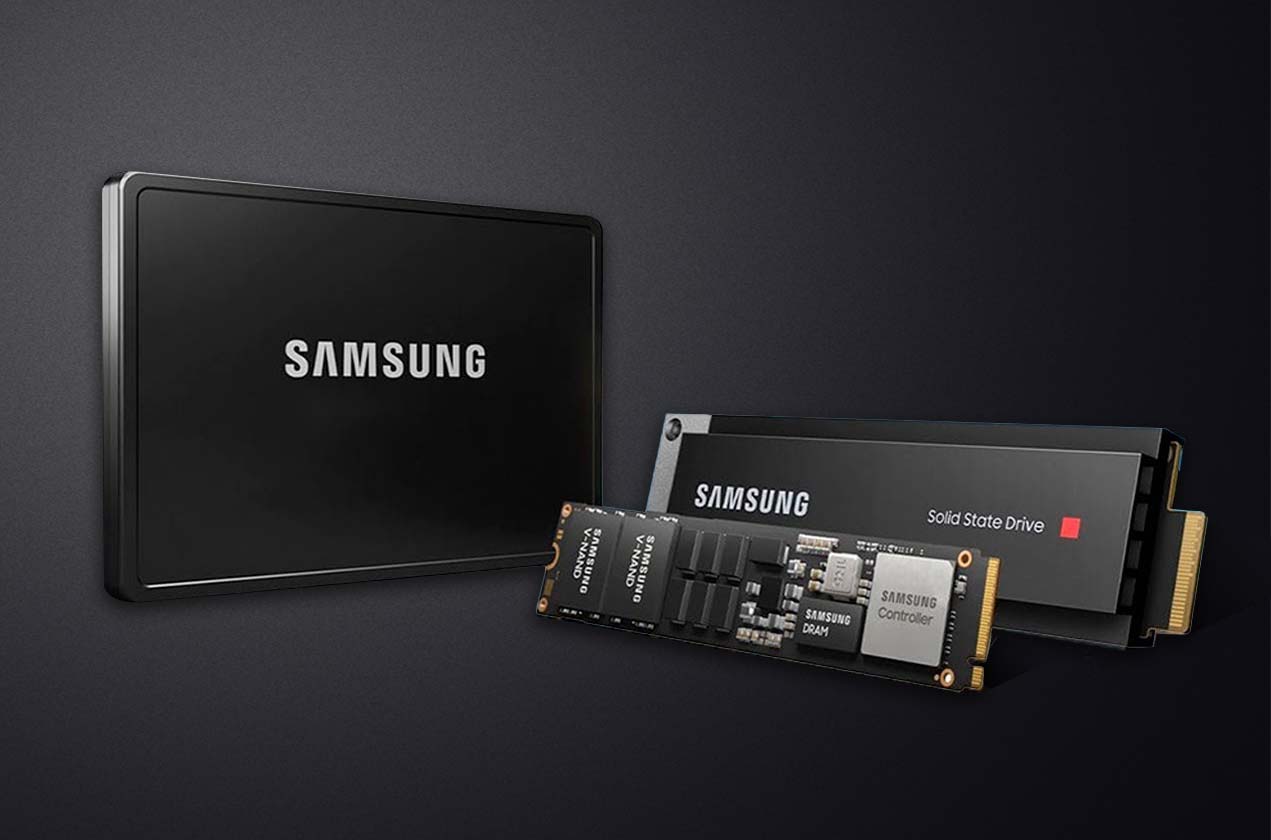 ​
Samsung's PM1743 in random read IOPS Second only to 2.5 million and 250,000 slow random write IOPS. Its sequential read bandwidth of 13,000 MB/s is not far off from FADU,But sequential writes are much worse - just 6,600 MB/sec.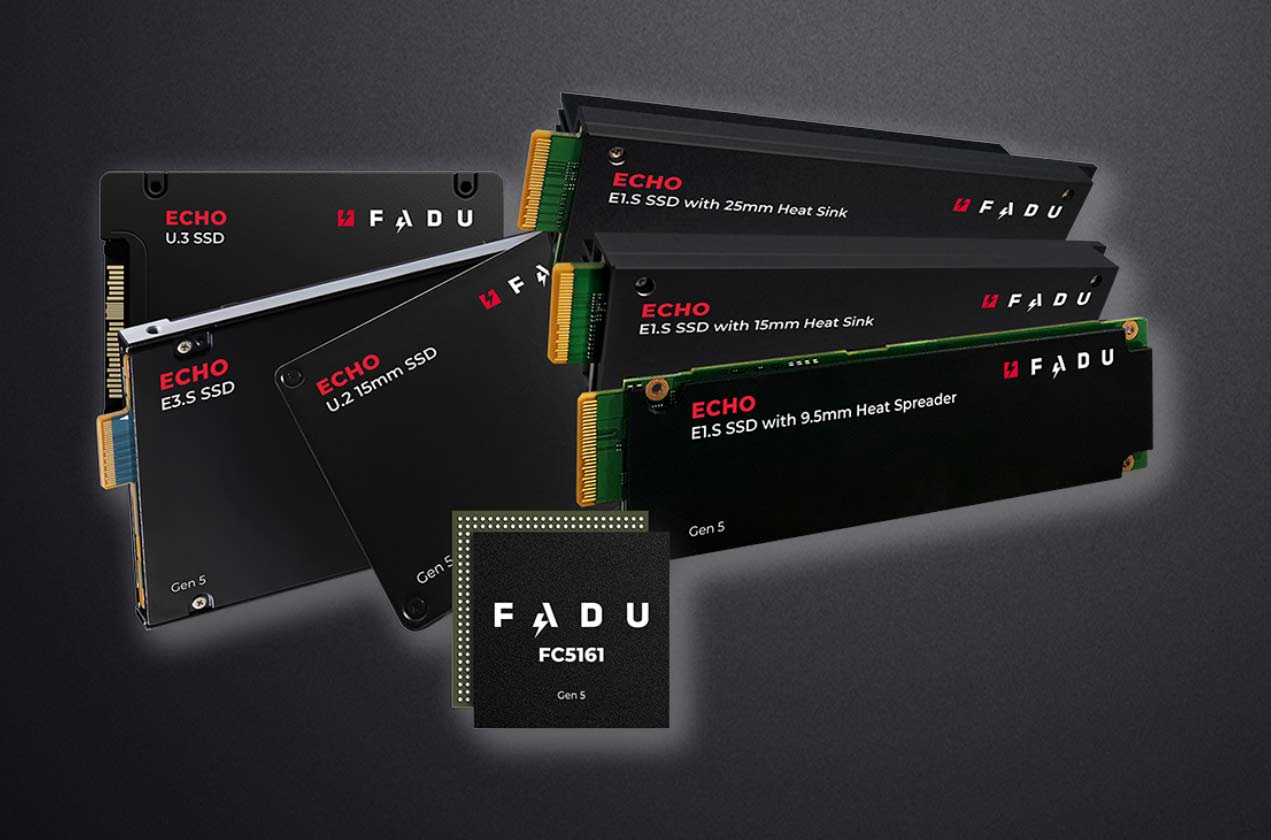 FADU released PCIe Gen5x4 SSD series solutions, Support NVMe 1.4a and OCP Cloud Spec 2.0, Including FC5161 SSD master and Echo SSD (supports E1.S, U.2, E3 and E1.L interfaces).
FADU's Echo is the king of random read IOPS, Random read IOPS was 3.4 million, But random write IOPS is relatively poor at 735,000. Its sequential bandwidth is also excellent:14,600 MB/s read speed, Write speed is 10,400 MB/s.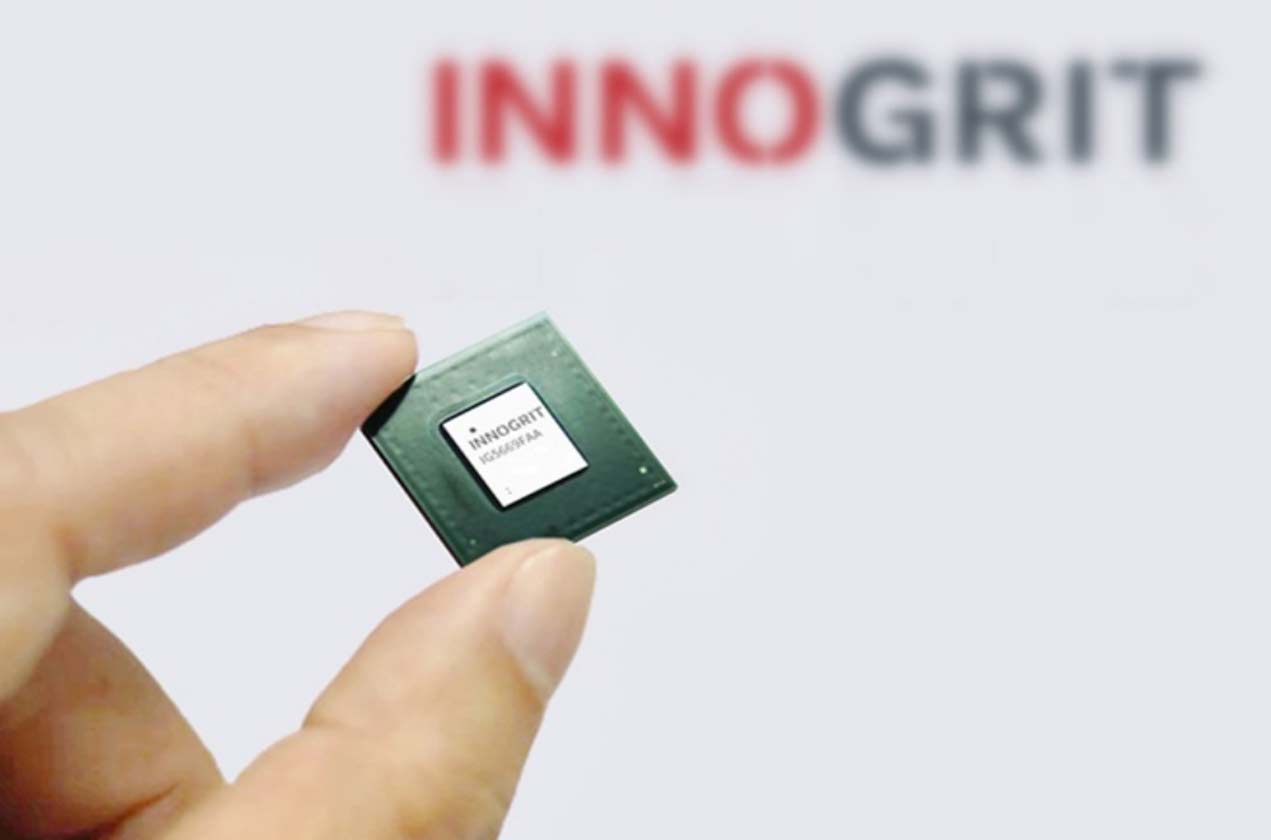 ​
InnoGrit has launched a new generation of PCIe 5.0 SSD controller chip Tacoma IG5669, with a sequential read speed of up to 14GB/s and a support capacity of 32TB, making full use of the performance improvement brought by PCIe 5.0 technology. to meet the data center of rapidly growing data storage and computing needs.
Tacoma uses 4-lane PCIe 5.0 interface, With 16/18 NAND channels,While supporting the latest technology protocols such as NVMe 2.0, DDR5 and ONFI 5.0,Adopt 10-core CPU parallel command processing method. Take full advantage of the bandwidth advantages of PCIe Gen5 and DDR5 to improve storage performance. Tacoma can be widely used in high-end storage field, Including high-end computers, enterprise applications, high-end data centers and artificial intelligence.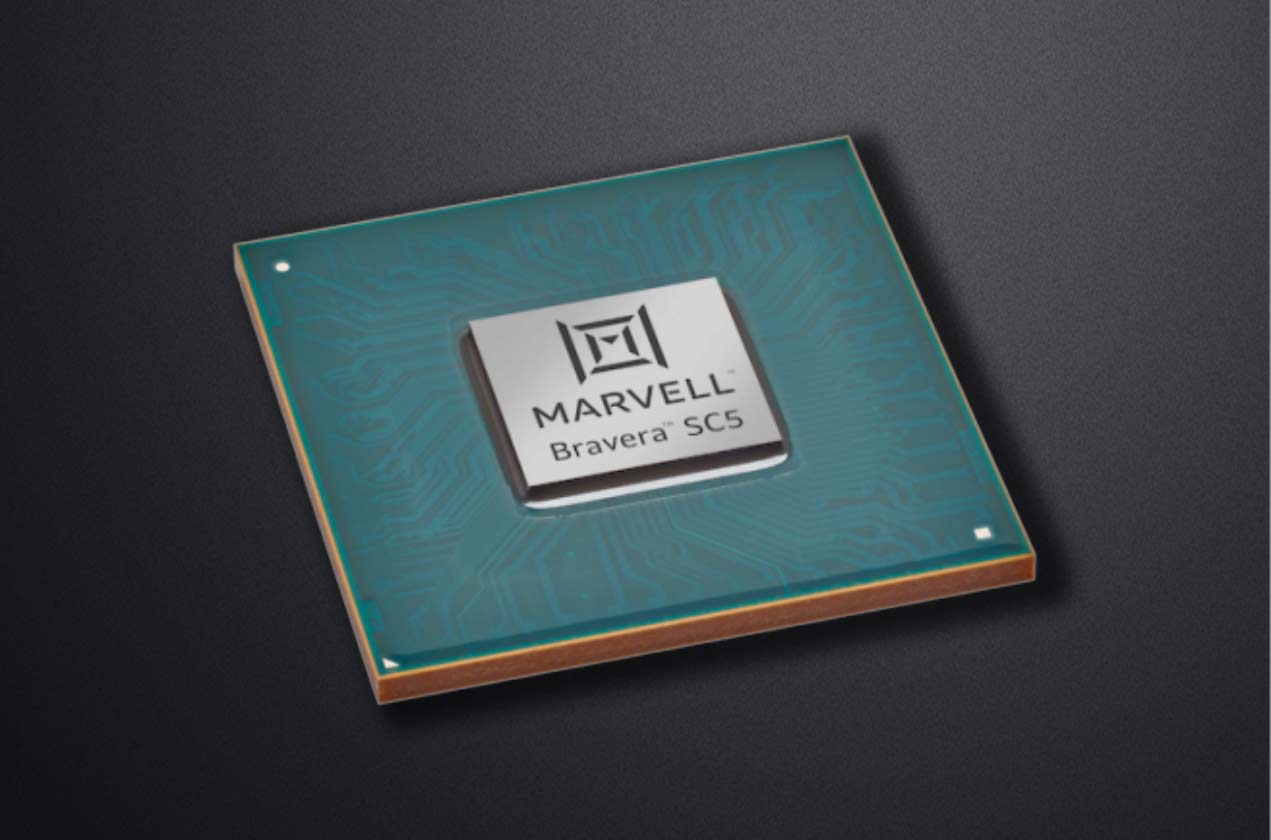 ​
Marvell announces the first PCIe 5.0-capable NVMe SSD controller, and a new branding strategy for Marvell storage controllers. The new SSD controller is the first product under the Marvell Bravera brand, The brand will also include HDD controllers and other storage accelerator products. The Bravera SC5 series PCIe 5.0 SSD controllers will consist of two controller models:8-channel MV-SS1331 and 16-channel MV-SS1333.
These new SSD controllers offer roughly twice the performance of PCIe 4.0 SSDs. This means sequential read throughput reach of 14 GB/s, Random read performance is around 2M IOPS.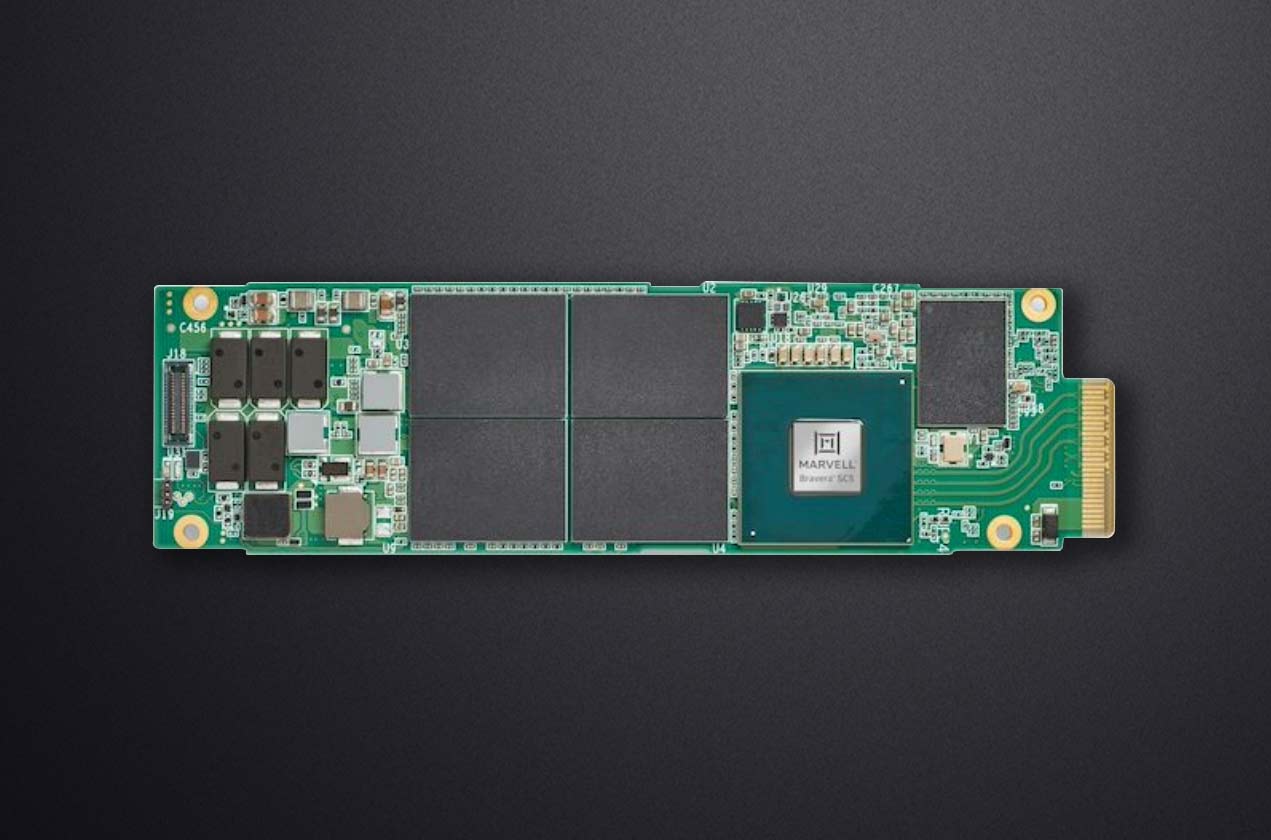 ​
In addition to being the first PCIe 5.0 SSD controller available, The Bravera SC5 series also includes the first 16-channel controller, Designed for the EDSFF E1.S form factor, The controller package size is 20x20 mm, The controller peak power is 9.8 W .


Comparison of the latest NVMe PCIe5 SSDs
· Two ADATA PCIe Gen5 SSDs: Nighthawk (Silicon Motion SM2508) and Blackbird (Innogrit IG5666),
· Apacer AS2280F5 and Zadak TWSG5 PCIe Gen5 SSD (Phison PS5026-E26),
· Kioxia PCIe Gen5 NVMe SSD (Phison PS5026-E26)
· Corsair MP700 Gen5 PCIe x4 NVMe 2.0 M.2 SSD (Silicon Motion SM2508)
· AORUS Gen5 10000 NVMe 2.0 M.2 SSD (Phison PS5026-E26)
· MSI Spatium PCIe Gen5 NVMe SSD series is Phison PS5026-E26
· TeamGroup T-Force Cardea PCIe Gen5 SSD (Silicon Motion SM2508).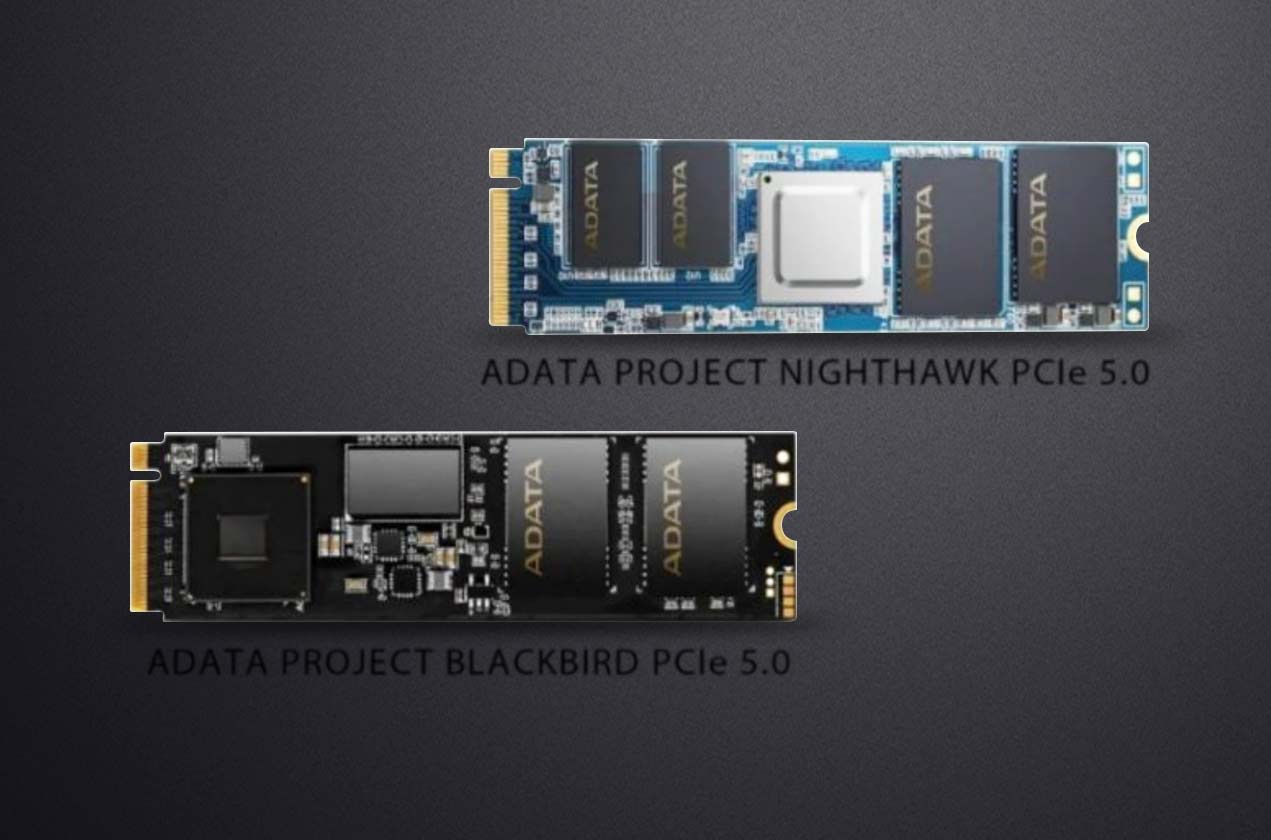 ​
Taiwan-based memory and storage manufacturer ADATA will unveil its PCIe 5.0 solid-state drives, showing off two prototypes of PCIe Gen 5 SSDs, Project Nighthawk and Project Blackbird. These SSDs have sequential read bandwidth speeds of up to 14GB per second and write speeds of up to 12GB per second. The press release also mentions other models with 12GB/s and 10GB/s read speeds.
Both M.2 SSDs will be based on the NVMe 2.0 standard, the most popular interface technology used by SSDs. In addition to using the PCIe Gen 5 x4 interface, these drives will offer capacities up to 8TB.
With the introduction of Intel's 12th-generation Alder Lake processors, the latest generation of PC technology ushered in the DDR5 and PCIe 5.0 standards.
​
Apacer announced the launch of the AS2280F5 M.2 PCIe Gen5 x4 SSD, the world's first consumer-grade product of its kind. Phison has previously announced at Computex 2022 that it will work with its partners AMD and Micron to build a PCIe Gen5 ecosystem to welcome the advent of the PCIe Gen5 SSD era.
According to Wccftech, the AS2280F5 M.2 PCIe Gen5 x4 SSD is a standard design of Apacer, and Zadak, a high-end gaming brand under Apacer, also has a corresponding product, the model is TWSG5. Both comply with the NVMe 2.0 standard, with sequential read and write speeds of 13,000 MB/s and 12,000 MB/s respectively, and are backward compatible with PCIe Gen4, and have built-in multiple Apacer data read and write protection technologies. It is understood that the main control should use the chip of Phison.
Apacer announced its first consumer-grade PCIe 5.0 SSD during Computex 2022. The Apacer AS2280F5 and Zadak TWSG5, two series of 5th generation PCIe SSDs in M.2 format, were also released. Both have read speeds of up to 13,000MB/s and write speeds of just under 12,000MB/s. (That's slightly less than double the speed of the fastest M.2 Gen 4 drives on the market.)Both drives are backwards compatible with Gen 4 connectivity and feature solid aluminum heatsinks. If the motherboard's M.2 slot is in an awkward spot. Each has a 5-year warranty.
AMD's upcoming AM5 platform and Ryzen 7000-series CPUs, which will be released this fall, will also support PCIe 5.0, and AMD is working closely with partners to ensure PCIe 5.0 SSDs are introduced with the new platform.
GIGABYTE recently announced the launch of the next-generation AORUS Gen5 10000 SSD with 10GB/s read speed. AORUSGen5 10000 SSD is composed of a new generation of PCIe5.0 main control chip and a new generation of ultra-fast 3D-TLCNAND flash memory. The performance is more than 55% higher than that of PCIe4.0 SSD. It uses M.22280 interface and provides 1TB to 4TB capacity, which is convenient for users to install and purchase on demand.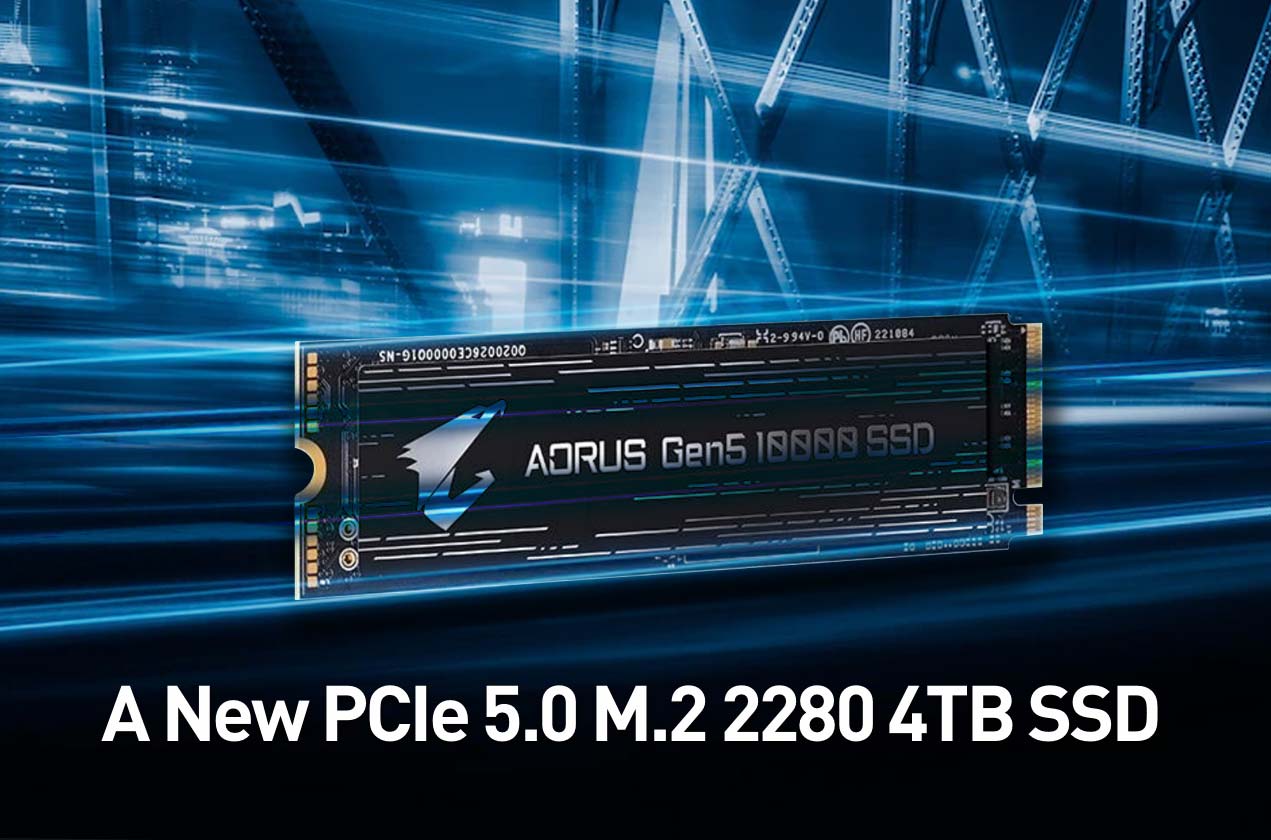 ​
AORUSGen5 10000SSD adopts the PS5026-E26 main control chip with a new generation of Phison 8-channel design. Provide users with ultra-high random read speed, equipped with more than 200-layer stack structure, 3D-TLCNAND flash memory and LPDDR4 cache design with a bandwidth of up to 2400MT/s,
Unlock the full potential of PCIe 5.0 performance with ultra-fast read speeds of 10GB/s, which is a 40% performance improvement over the previous generation. AORUSGen5 10000 SSD is equipped with a new generation of multi-core architecture PS5026-E26 main control chip, which not only improves AI multitasking capabilities, but also brings performance-hungry content creators, e-sports players and users to a higher level of experience.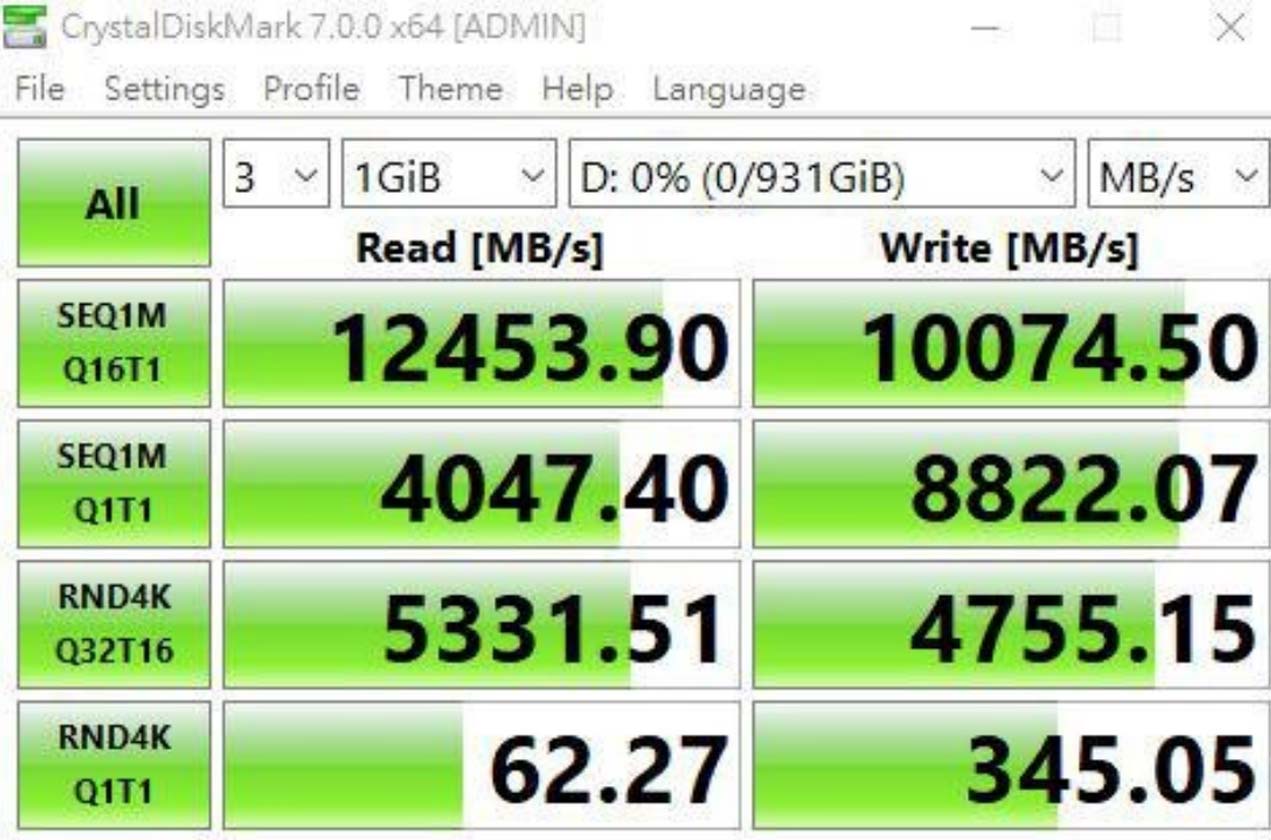 ​
Usually, high-speed solid-state drives generate a lot of heat during full-speed operation, which in turn activates the overheat protection mechanism to avoid data loss, damage to flash memory particles and the main control chip, and also reduce transfer rates and performance. 
Since many new-generation motherboards are already equipped with M.2 heatsinks, the AORUSGen5 10000 SSD is specially designed with a full-coverage pure copper heatsink that is easy to remove. Users can flexibly choose to use the M.2 heat sink on the motherboard or the original heat sink of the AORUSGen5 10000 SSD according to their needs. When the heat sink configuration is more flexible, it is more in line with the needs of players.
​
Corsair is Announcing the performance specs of its first PCIe 5.0 SSD - the Corsair MP700. The Corsair MP700 Gen 5 PCIe x4 NVMe 2.0 M.2 SSD has an impressive 10,000 MB/s sequential read and 9,500 MB/s sequential write speeds.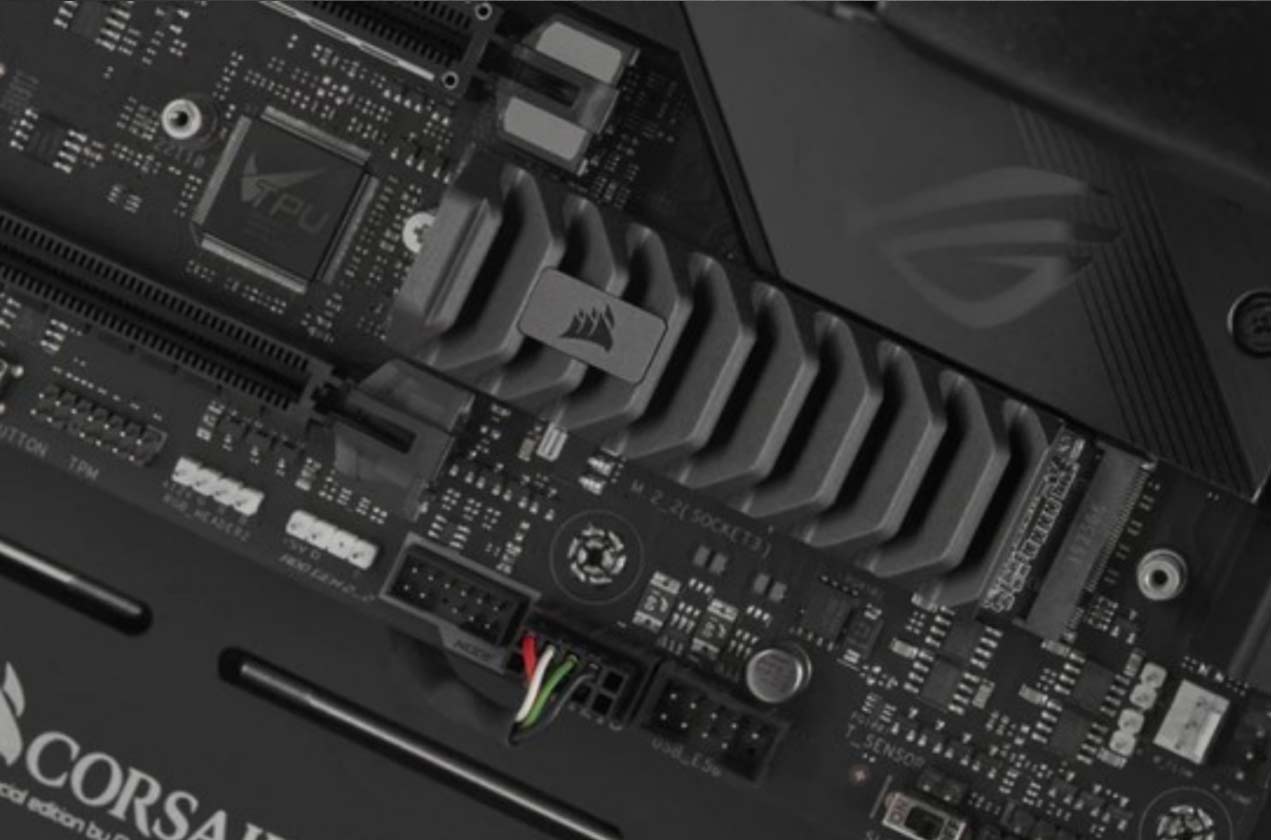 ​
The MP700 is 40% faster than Corsair's fastest PCIe Gen 4 drive, the MP600 Pro XT, for sequential reads and writes. This can be attributed to the higher bandwidth of PCIe 5.0 -- in the M.2 form factor, PCIe 5.0 allows a maximum of 15.8 GB/s.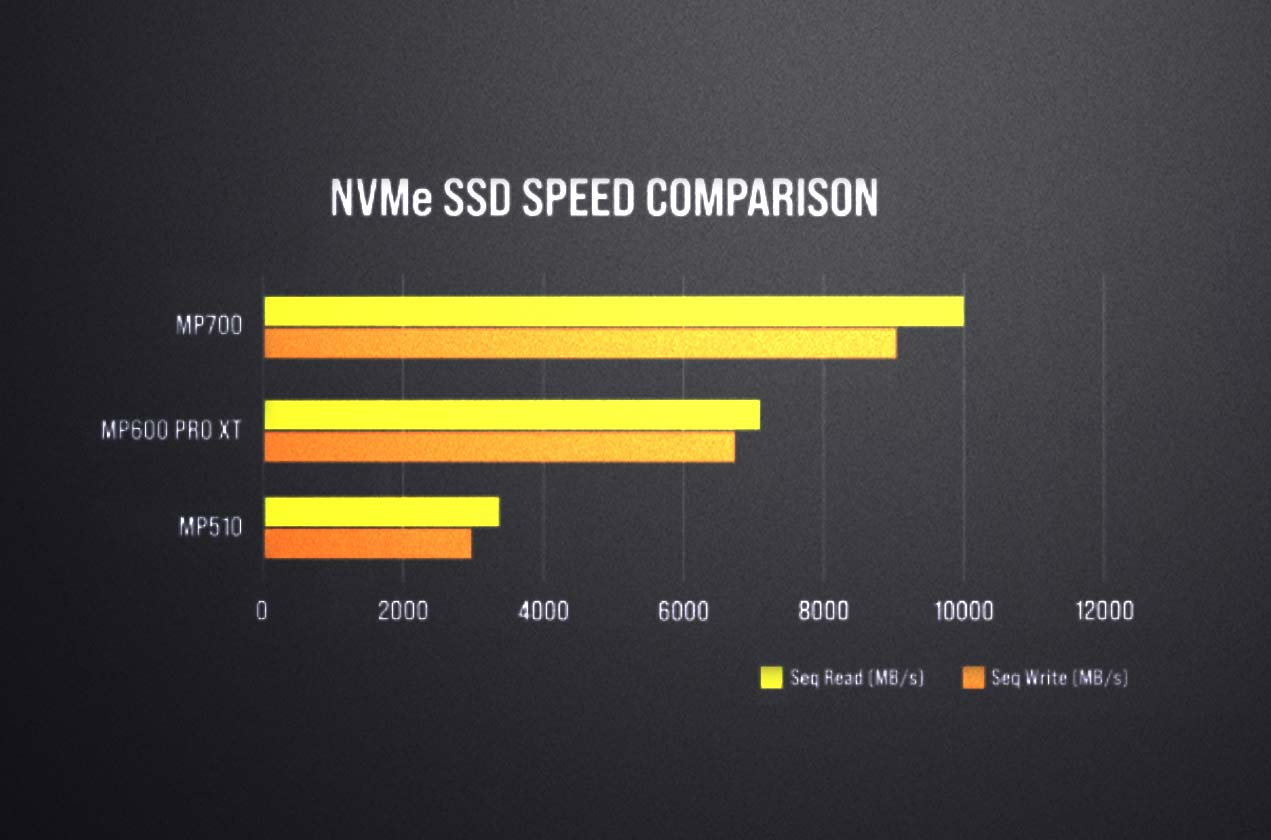 ​
The MP700 basically confirms that we're likely to see PCIe 5.0 hard drives in consumers' hands this year -- not just Corsair, but other hard drive manufacturers. PCIe 5.0 SSDs were originally expected to hit the enterprise market only in 2022 -- but, thanks to Silicon Motion's new enthusiast-grade SM2508 controller, PCIe 5.0 SSDs look ready for a "limited" debut in the consumer enthusiast segment. (The Corsair MP700 is likely a higher-end "enthusiastic fan" SSD.)
With AM5 on the horizon, along with Intel's new Raptor Lake CPUs and 700-series chipset motherboards, it will be exciting to see PCIe 5.0 hard drives in use now, as the technology is going mainstream.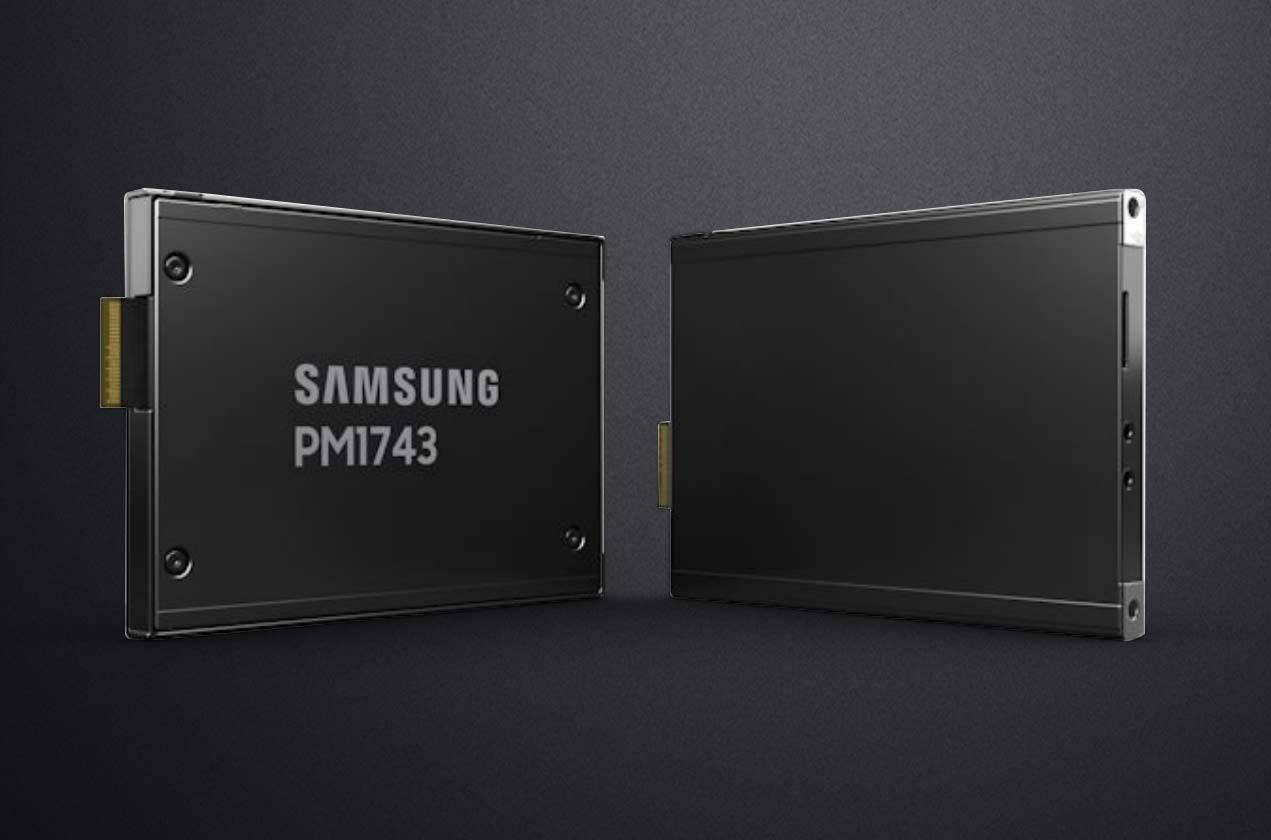 ​
New to this generation of SSDs, Samsung will offer the PM1743 in two form factors. The first is the traditional 2.5-inch U.2 form factor. Joining U.2, meanwhile, will be the E3.S, an updated 3-inch enterprise and data center form factor designed to be slightly larger than U.2 drives, while including a drive that can handle up to 16 PCIe channel connector. SSDs certainly don't use as many channels, but it's a form factor that drive and system vendors have been pushing, making it the front-runner for the eventual successor to U.2. According to the E3 2.0 specification released last year,We've been expecting E3.S drives to land in early 2022,So Samsung is on time.
Finally, the PM1743 will be available in capacities from 1.92TB to 15.36TB, the same capacity as the PM1733 currently available. So while there is no capacity increase at the individual drive level, since the E3.S is half the thickness of a traditional 15mm U.2 drive, Samsung is touting the overall density improvements the new drive will offer. Essentially, if a server uses E3.S, it will be able to hold twice as many drives (and therefore twice as much storage) as a U.2 configuration.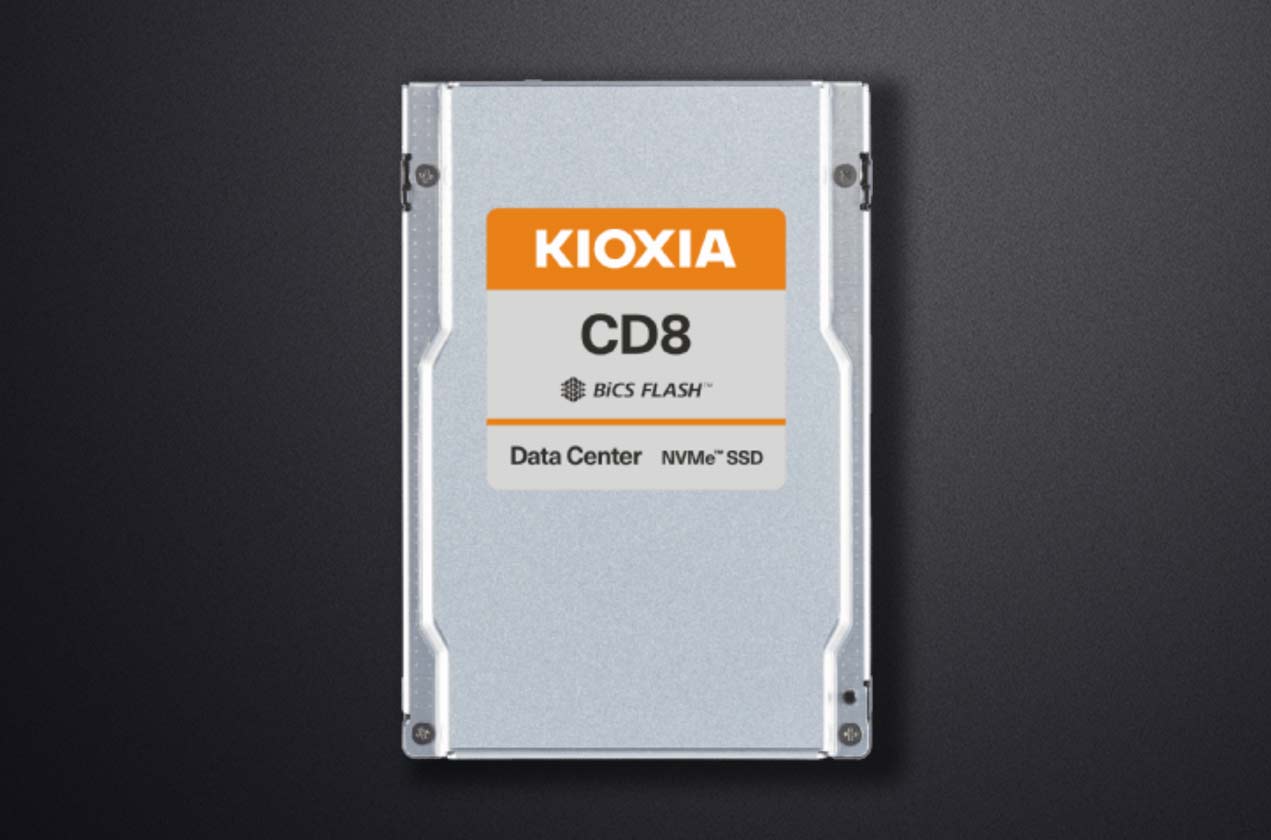 ​
KIOXIA released the CD8 series PCIe 5.0 SSD, its second-generation PCIe 5.0 SSD in a 2.5-inch, 15mm Z-height form factor. Compared to PCIe 4.0 SSDs (from 16GT/s to 32GT/s). The new CD8 series of SSDs have twice the bandwidth per channel and are optimized for hyperscale data center and enterprise server add-on workloads.
Kioxia CD8 is the follow-up to its first PCIe Gen 5 NVMe SSD CD7,CD7 debuted last fall. Available in enterprise and data center SSD form factors (EDSFF). With the release of CD8, The company brings the latest interface to the more common 2.5-inch, 15-mm form factor in data centers.The CD8 is based on the fifth generation BiCS Flash 3D NAND technology. The PCIe 5.0 prototype SSD shown by Kioxia has a sequential read speed of 14 GB/s and a write speed of 7 GB/s. Thanks to the new standard, the drive is over 100% faster in read and 67% faster in write than the Gen 4 PCIe standard.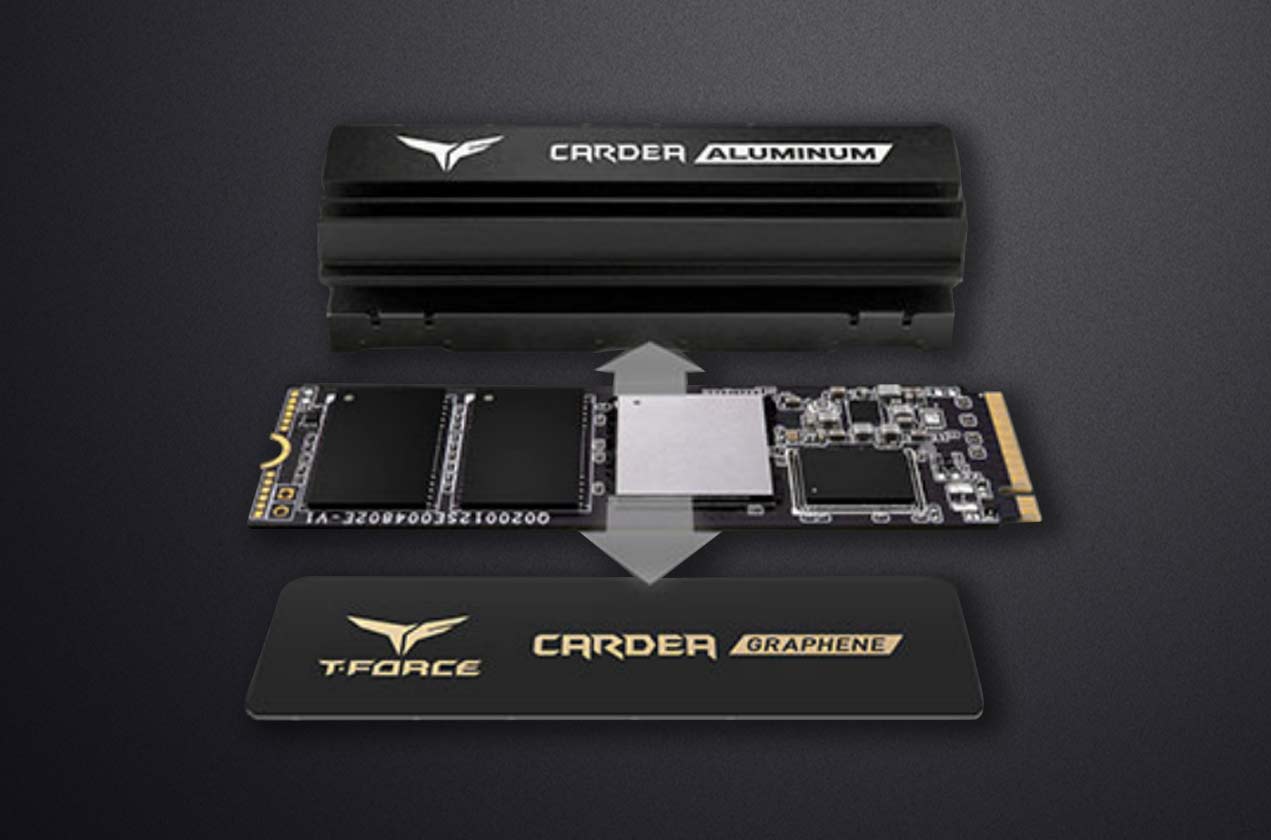 ​
TeamGroup announced the launch of the industry's first SSD with PCIe 5.0 x4 connection, which is specially designed for client PCs. TeamGroup says its T-Force Cardea PCIe Gen5 SSD has a maximum sequential read speed of over 13,000 MB/s and write speed of over 12,000 MB/s. For maximum compatibility with a wide variety of systems, the T-Force Cardea PCIe Gen5 drive comes with two user-installable heatsinks: an aluminum heatsink for desktop PCs and an aluminum heatsink for laptops and small desktops Graphene heat sink.