Ankmax P831HGS USB C Hub Ethernet Adapter
USB type c hub [1Gbps LAN / 4K HDMI / VGA / 60W PD quick charge  / USB3.1  * 2/SD/MicroSD], Type C hub Wired LAN adapter, High speed data transfer Aluminum compact USB hub Compatible with MacBook Air / MacBook Pro / Surface GO / Chromebook / Samsung Galaxy Tab Pro / HP Specter / ThinkPad / Huawei Matebook / IPad Pro
Main Features and Benefits
Connect to up to 8 devices simultaneously. You can connect one USB-C PD port to two USB3.1 (Gen1) ports, one microSD/SD solts, one VGA port, one HDMI port, and one Ethernet port simultaneously.
· HDMI port: resolution up to 3840 x 2160 (4K 30Hz)
· VGA port: Resolution 1080P @ 60Hz Up to 1080P @ 60Hz, 1080p, 1080I, 720p, etc. backward compatibility.
· Enables fast and reliable Internet connection. It is equipped with a 1 Gigabit Ethernet port.
· USB3.1 (Gen1) high speed data transfer. High-speed data transfer of 5Gbps such as videos and music is possible.
· SD&TF Card Reader can also work simultaneously, easy access to files from universal SD and Micro SD Memory Card.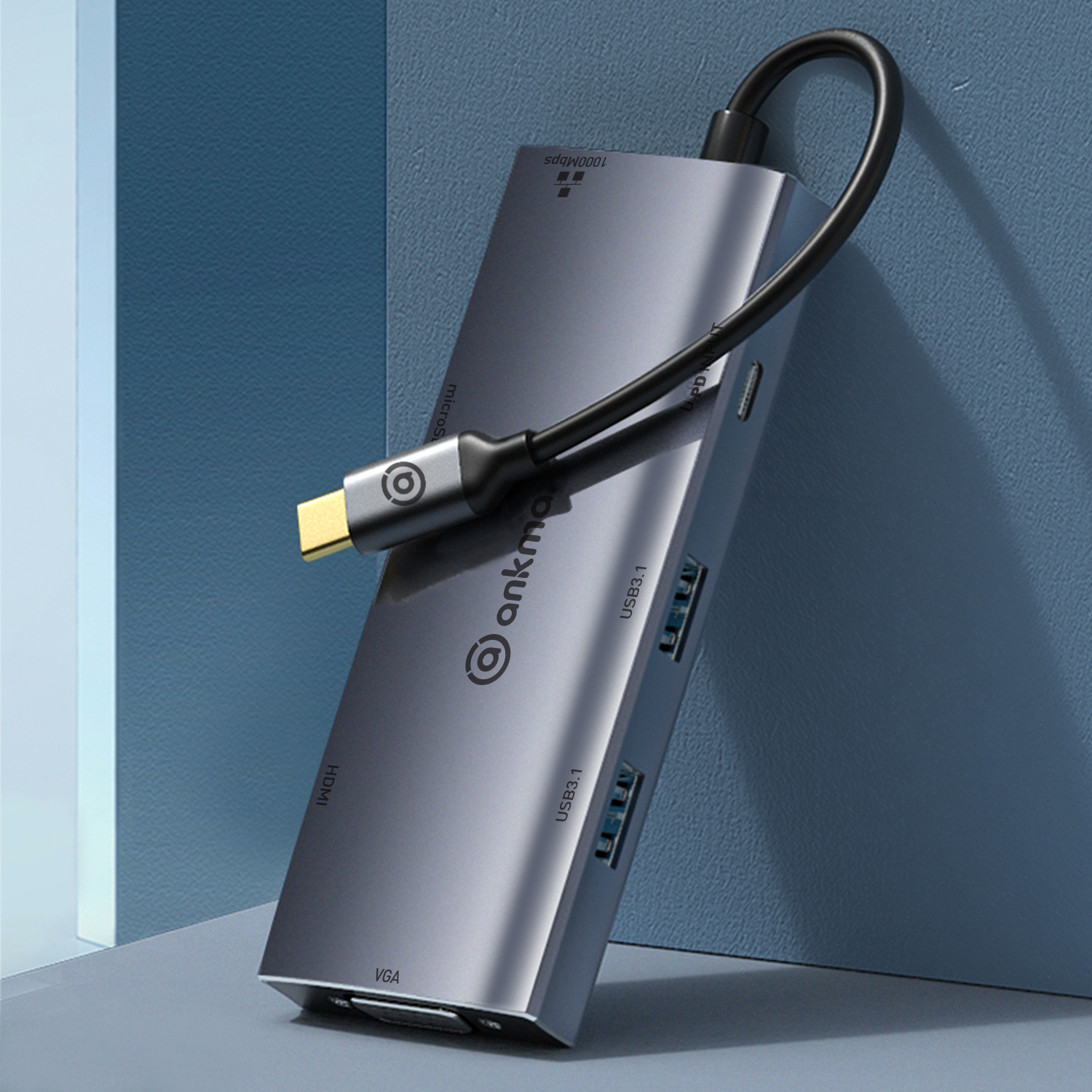 HDMI Port for 4K UHD Video Output
Mirror or extend your screen with Ankmax USB C adapter HDMI port and directly stream 4K UHD 3840×2160@30HzUHD.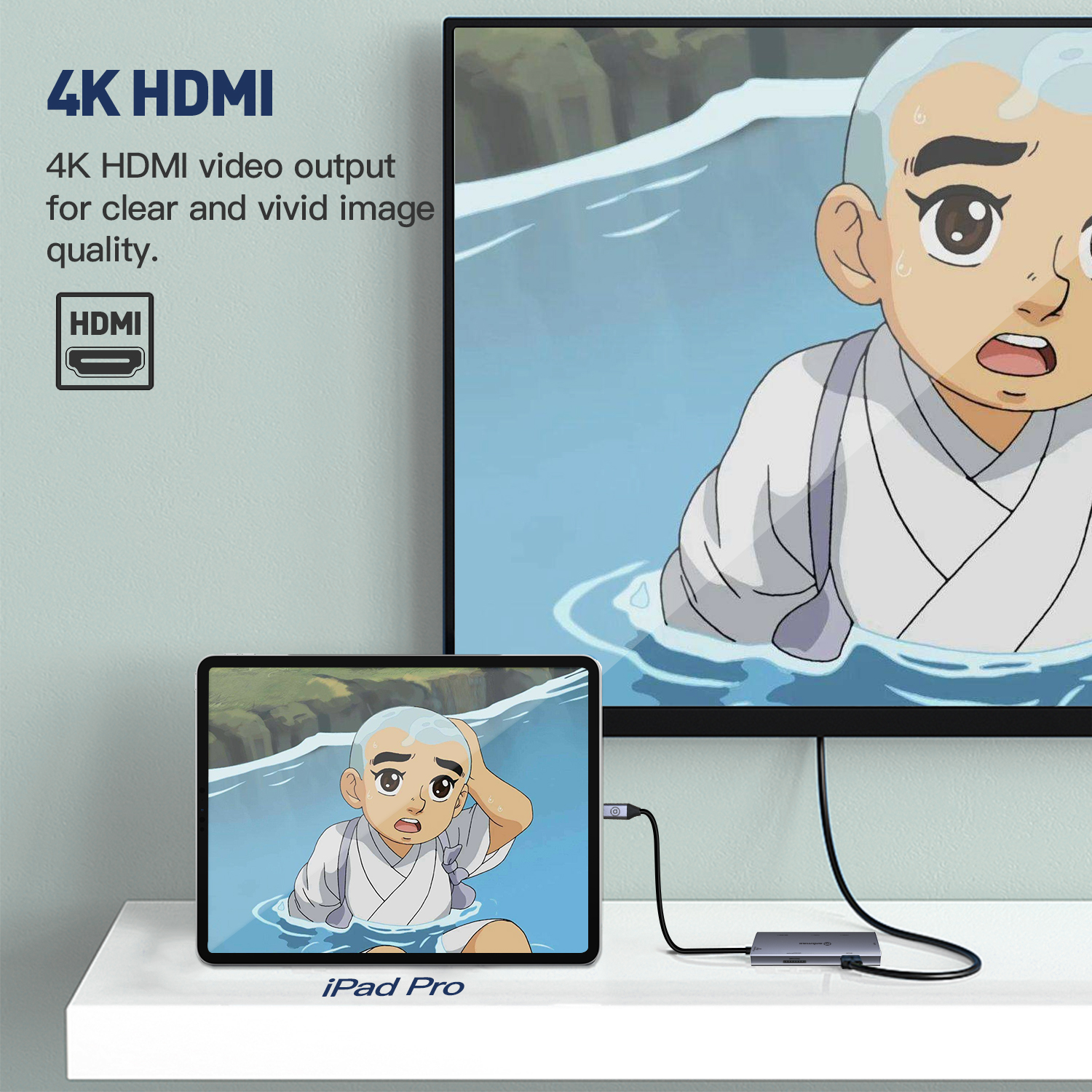 VGA Port for 1080P Image Output
VGA display in up to 1080P@60Hz Full HD.
HDMI+VGA to USB C adapter allows your dual monitors to work Simultaneously
This USBC adapter is design to extend or mirror screen of Laptop/ PC/Tablet to Projector/ TV/ Monitor/Display. This HDMI and VGA port work simultaneously, you can use usb c to HDMI and USB C to VGA at same time. Expand more work space when you work from home. It is a good choice for online education, data analysis, home office.
HDMI VGA to USB C Adapter the HDMI Port supports resolution up to 4K*2K@30HZ. 4 times clearer than 1080P. It also has backward compatibility and supports HD resolutions such as 1080p and 720p. Support VGA Resolution up to 1920X1200@60Hz. 9Gbps Bandwidth let you streaming smoothing online gaming or HD movie to TV. Have a personal cinema.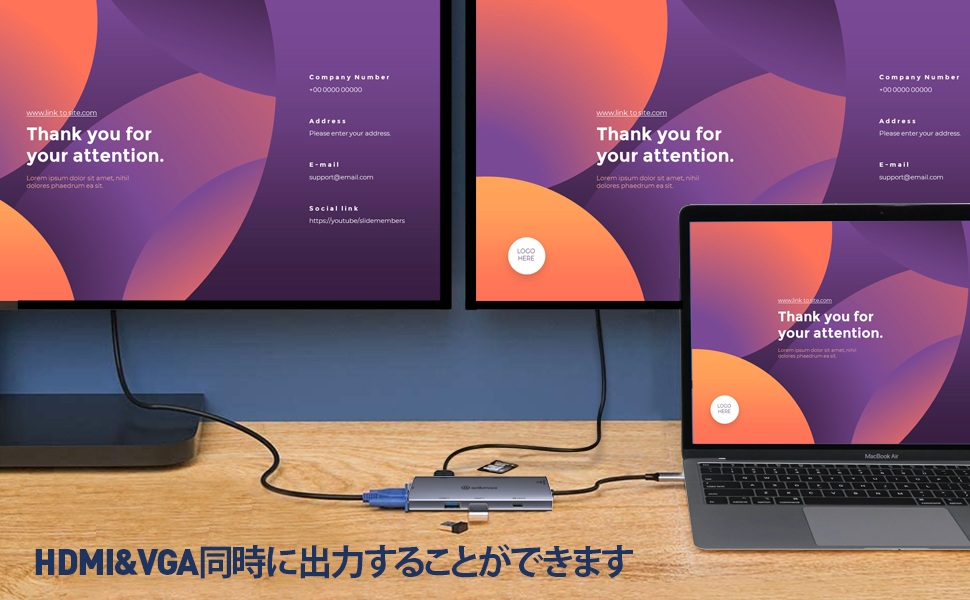 Max Ethernet Speed:1000Mbps
Instantly connect via a Plug-and-play wired ethernet connection for reliability and stability.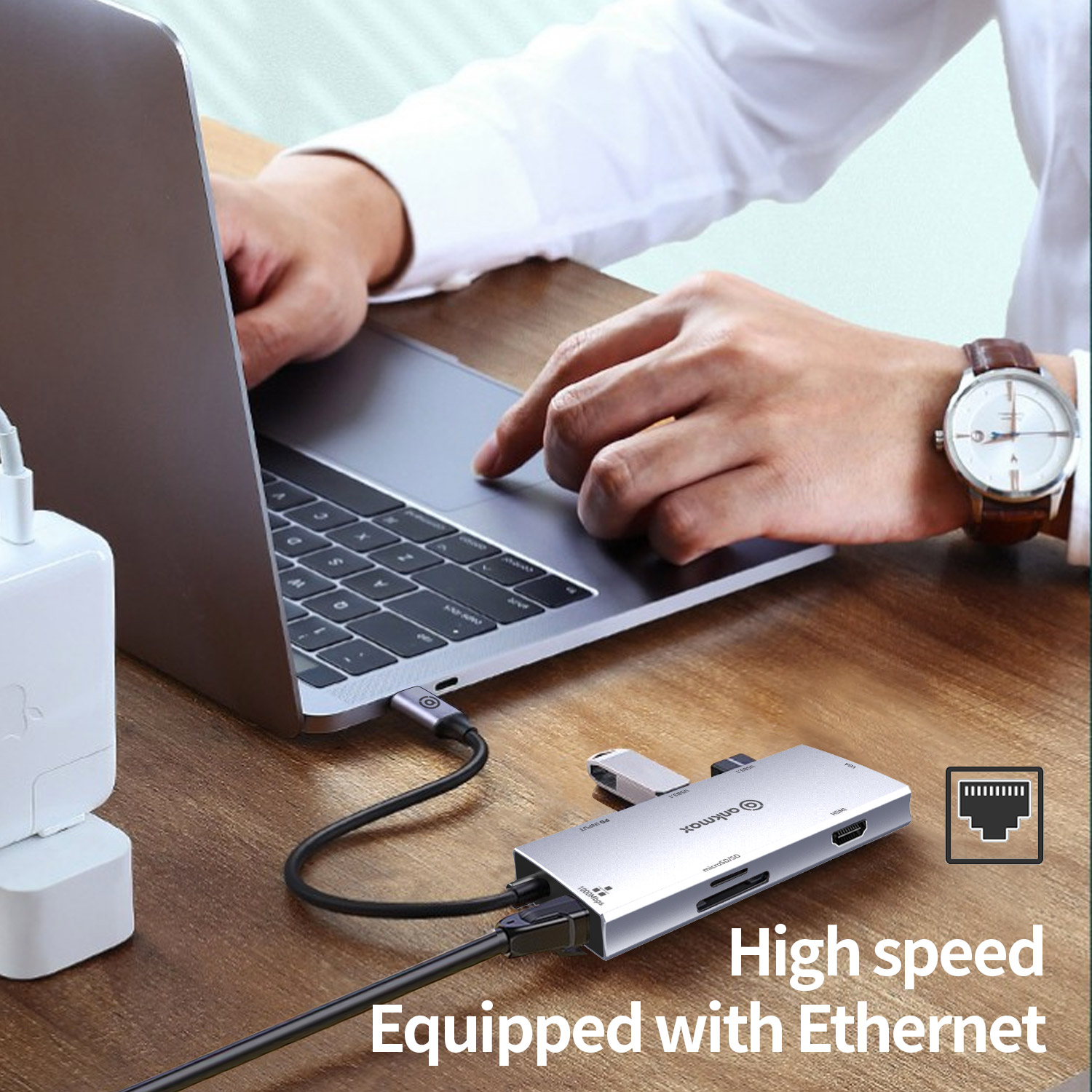 Instant 60w PD Charging
This USB C dongle provides one Type-C pass through female port by which you could securely charge connected Type-C laptops.
USB3.1 (Gen1) High-speed Data Transfer
USB3.1 (Gen1) Data transfer speed up to 5Gbps, Type C hub about 10 times faster than USB 2.0 (up to 480Mbps). Transfer large HD movies, work files, souvenir photos and more in just a few seconds. You can save more time. With the USB-C connector, the USB port is expanded to three, and by adopting up to three USB ports used in various devices, multiple USB devices such as USB memory, mouse, keyboard can be connected at the same time .. You can transfer videos and data at high speed.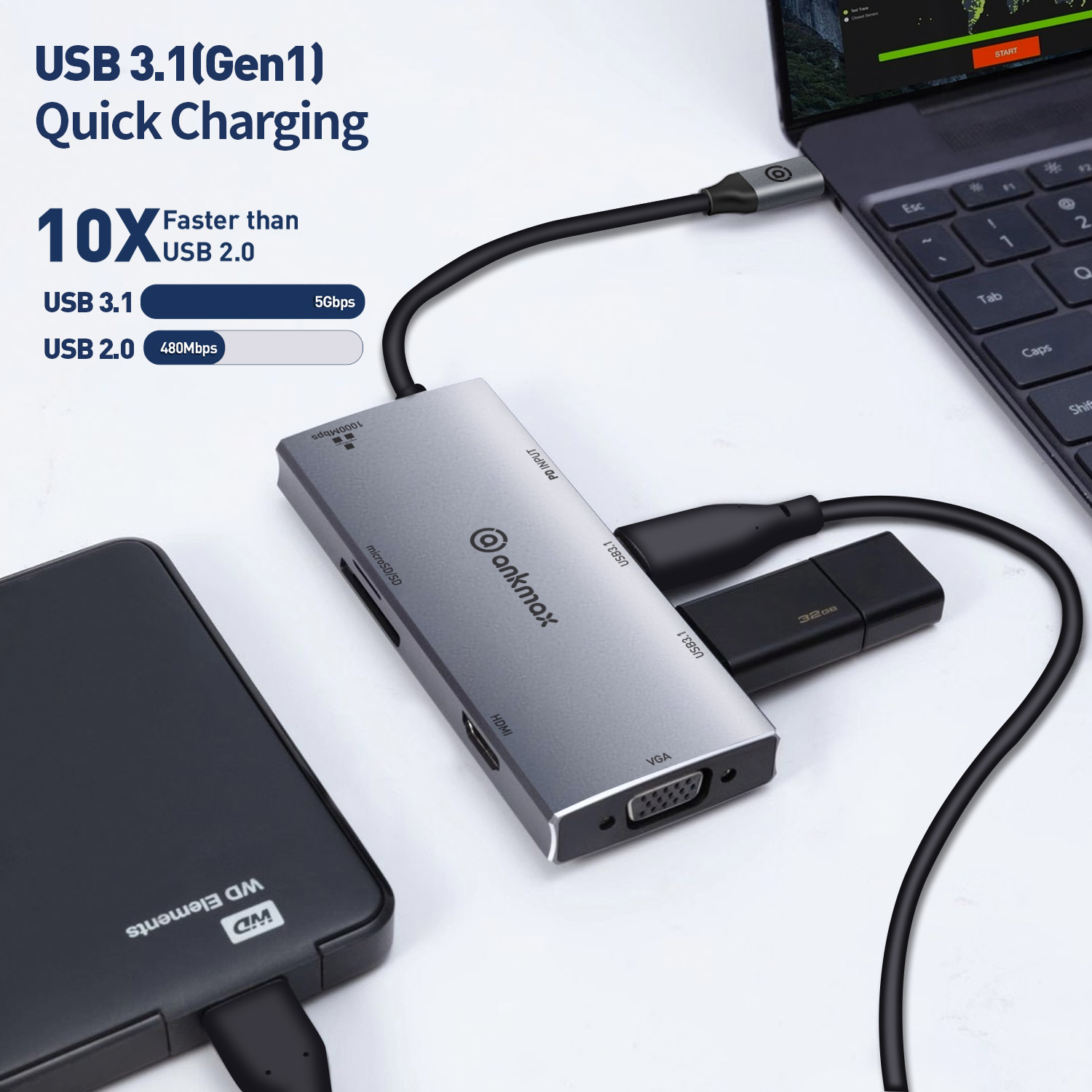 Universal SD Compatibility
Built-in SD/MicroSD card slots for Type-C devices to access files directly from an SD/MicroSD card, support Memory card capacity up to 512GB.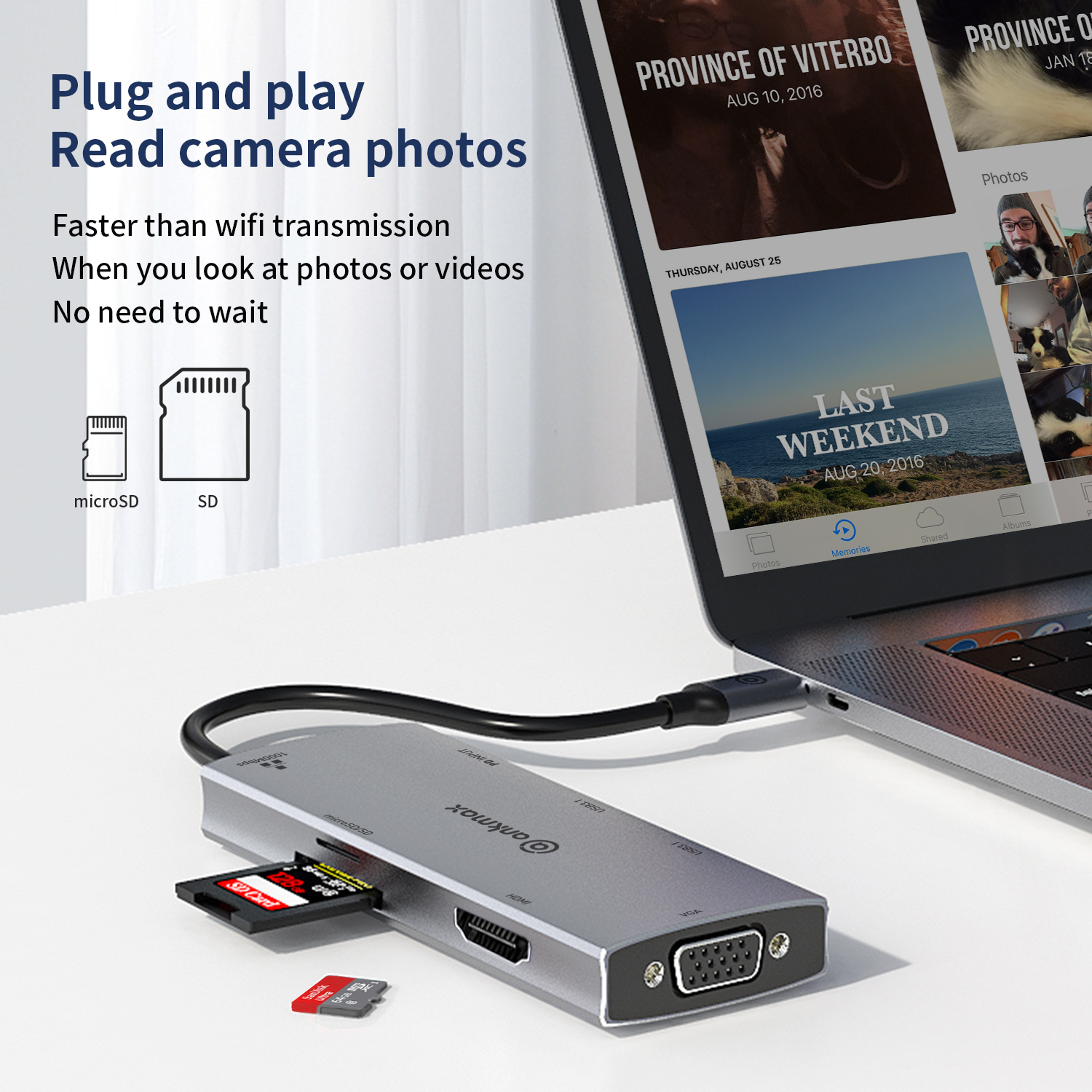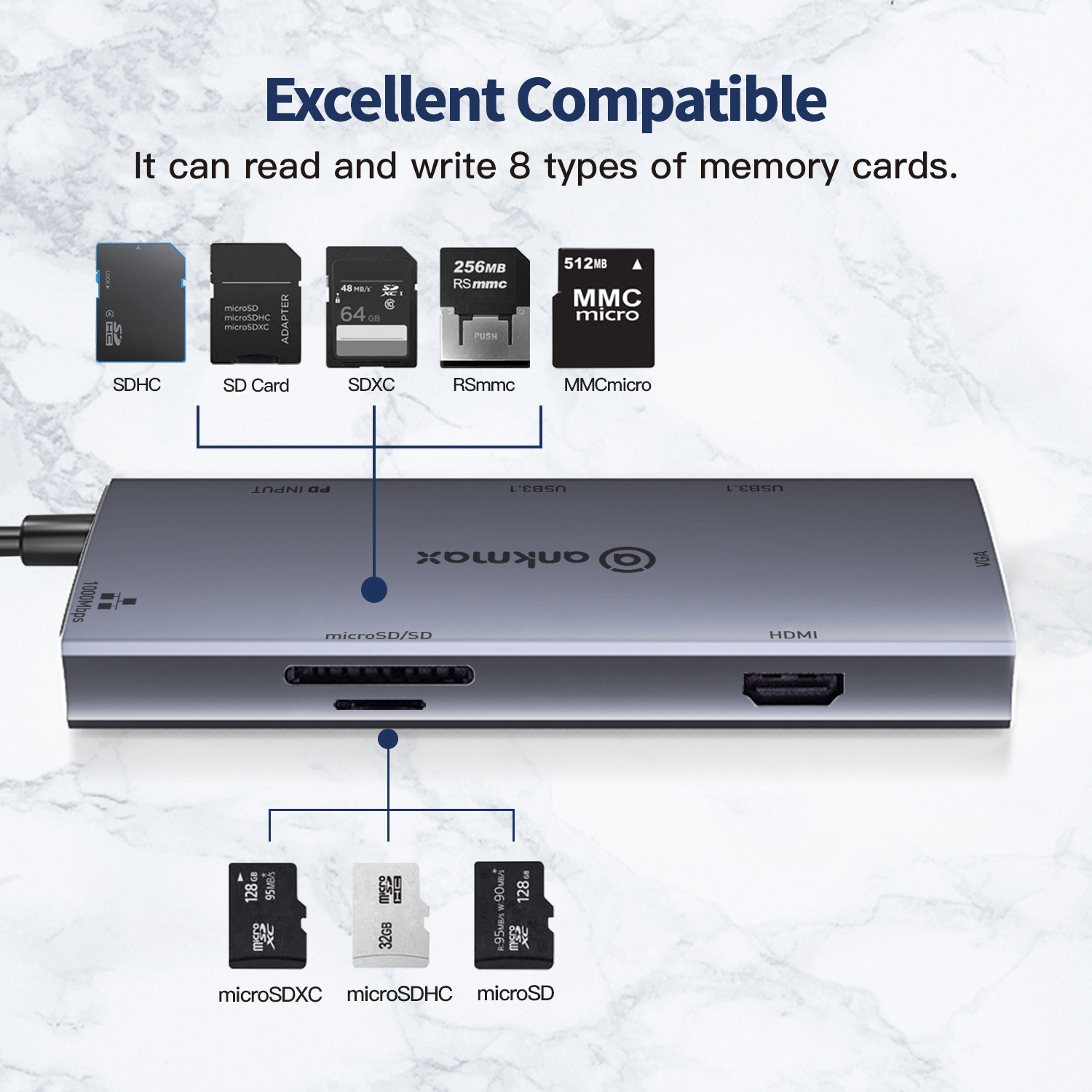 Bring Elegance & Functionality Together
Ankmax P831HGS USB type C to HDMI 4K Adapter. Design is the kernel of Ankmax. This tiny adapter is the combination of exquisiteness and functionality. The adapter is coming with metallic minimalist scheme and polished anti-slip raised.