​
Ankmax UC31M2 M.2 NVMe & SATA SSD Enclosure
Ankmax's smallest size portable M.2 SSD enclosure. Ideal for harnessing your NVMe or SATA M.2 SSD as an external USB-C drive with up to 2TB of storage capacity. Designed with USB3.1 10Gbp SuperSpeed & UASP Supported, the UC31M2 with greater convenience of use and versatility of digital data storage. An ideal choice for digital lovers, movie lovers, and business elites.
​
Transfer at Lightning Speed
UC31M2 adopts the latest high-quality master chip RTL9210B, equipped with USB3.1 10GbpsType-C interface, compatible with Thunderbolt 4/3, USB4.0/3.1/3.0 interface, and supports M1 Pro/Max Mac devices and iPad Pro. Offers the best of both worlds high-speed storage for Thunderbolt and USB devices.
UC31M2 When installed with M.2 NVMe SSD, the read speed can be up to 938 MB/S, and the write speed can be read up to 928MB/S.
When installed with M.2 SATA SSD, the read speed can be up to 560MB/s, and the write speed can be read up to 480MB/s.
The USB3.1 interface combines UASP & TRIM, making it 70% faster to read and 40% faster to write than the traditional USB 3.0 interface.
Test Environment:
· 500GB PCIe4 NVMe SSD 980PRO
· 2019 Intel Macbook Pro
· Black Magic Disk Speed Test
​
Portable M.2 NVMe & SATA SSD Enclosure
Ankmax UC31M2 M.2 enclosure is designed to house an M-Key& B+M Keys and size 2230/2242/2260/2280 NVMe PCIe SSD and M.2 SATA SSD, which turns it into a portable USB 3.1 external drive for maximum utilization.
Tool-free and no driver needed, just plug and play. Ideal for transferring files, backing up data, reusing old M.2 SSD, expanding storage space.
Compatible with M.2 NVMe M key and B+M key SSDs, M.2 SATA M Key SSDs.
Note: Not support M-SATA, PCIe AHCI SSDs, B-Key NVMe PCIe SSD.
Compatible SSD:
Compatible with SAMSUNG: 980/980 PRO/970 EVO Plus/970 EVO/970 Pro/960 Pro/960 EVO/860 EVO Series
Compatible with Western Digital: WD Blue SN550/WD Blue SN750/3D NAND/WD BLACK SN850/WD BLACK SN750 SE/WD BLACK SN750 Series
Compatible with Crucial: P2/P5 Series
Compatible with Kingston: A2000/KC2000/KC2500/SA400M8
Compatible with Seagate: BarraCuda 510/FireCuda 510/FireCuda 520
Compatible with Toshiba: RC500/RD500/RC100/RC10
Compatible with HP: EX950/EX900 Series
Compatible with Intel: 600P/660P/665P/760P/545S/Optane 800P/Optane H10
Compatible with Sabrent: Rocket 4 Plus/Rocket/Rocket Q
For the detailed SSD compatibility list, please refer to the FAQ of Ankmax official website.
​
Built to be Cool and Durable
Thick aluminum alloy body, unique CNC processing technology, make the product cool and durable, can withstand a drop of up to 2 meters.
The all-aluminum body has good heat dissipation performance, which helps to reduce the internal temperature and maintain the best performance of the SSD.
​
Quick Installation, Easy to Use
100% tool-free installation of SSD, compact and portable, plug and play, no driver required.
How to Install SSD:
1) Slide the back cover to open the enclosure.
2) Insert your SSD into the slot at a 45-degree angle.
3) Use the included rubber fixing buckle to secure the SSD in place.
4) Slide the tray back into the enclosure.
Reminder-if your computer cannot recognize the SSD case. Follow the steps below:
· For a new SSD, you need to enter Disk Management and initialize the SSD before you can detect it and use it normally.
SSD needs to be fully inserted to work properly
If you are unable to read the hard disk, please check the following two points:
· First, please make sure that your hard drive is M.2 PCIe NVME SSD or SATA SSD.
· Second, please confirm whether your SSD is fully inserted into the M.2 interface slot, you need to push the SSD into the slot at a 45-degree angle.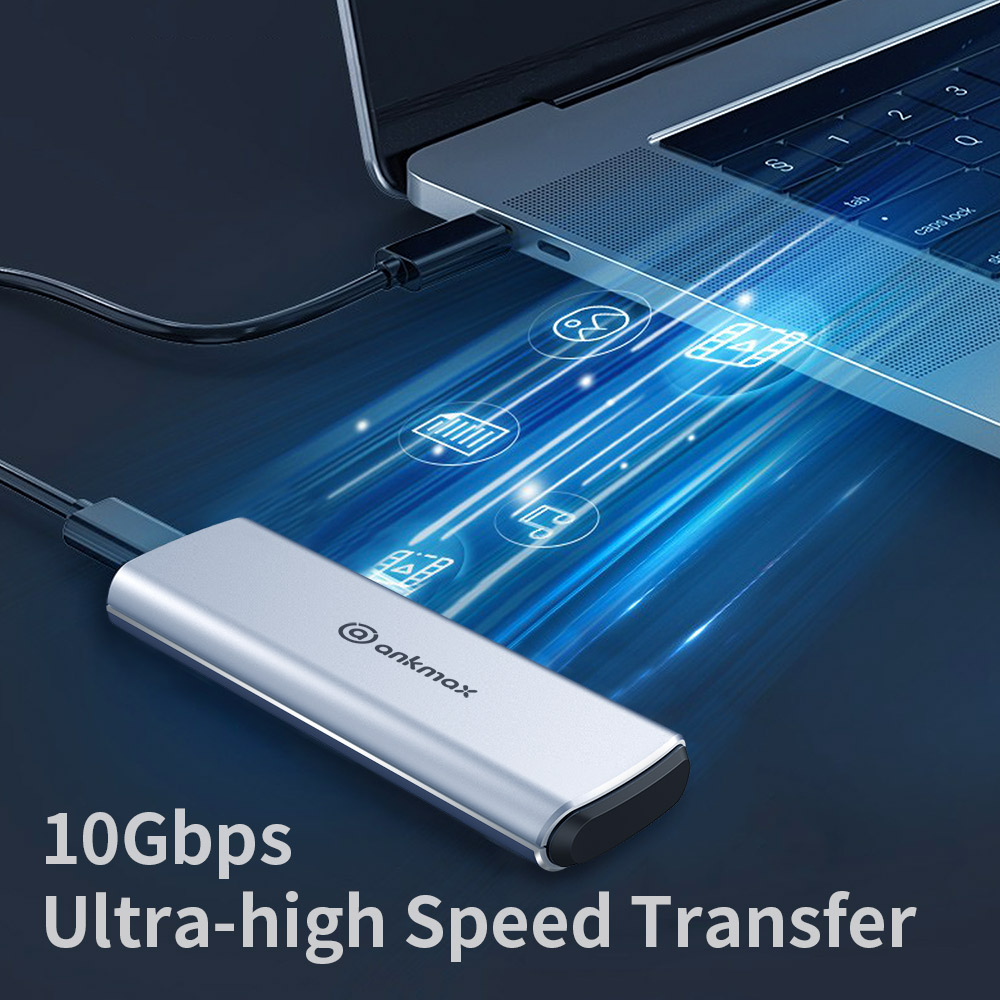 ​
​
Latest High Quality Master Chip
Using the latest high-performance controller IC RTL9210B chip, it can support two M.2 NMVe and SATA SSD at the same time, and can accommodate up to 2TB of storage (not included). Support UASP, Trim, can effectively improve the speed of SSD and extend its service life.

​
Samsung 970 EVO NVMe SSD 250GB Speed Test  WINDOWS AND MAC OS
​
​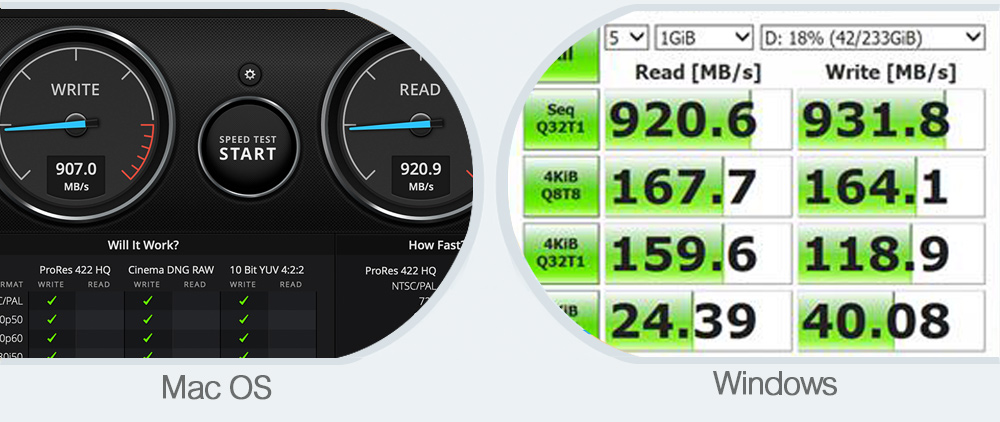 ​
​

​
Samsung 860 EVO SATA SSD 250GB Speed Test  WINDOWS AND MAC OS
​
​
​
Capable of read and write speeds of over 930 Mbps, depending on the SSD used, and when connected to a Thunderbolt 3 or USB 3.1 Gen 2 port. Over 200% faster write speeds and over 180% faster read speeds than leading SATA SSD external enclosures and USB 3.0 flash drives, making long wait times a thing of the past.
​
Back up your photos and watch movies anywhere and anytime.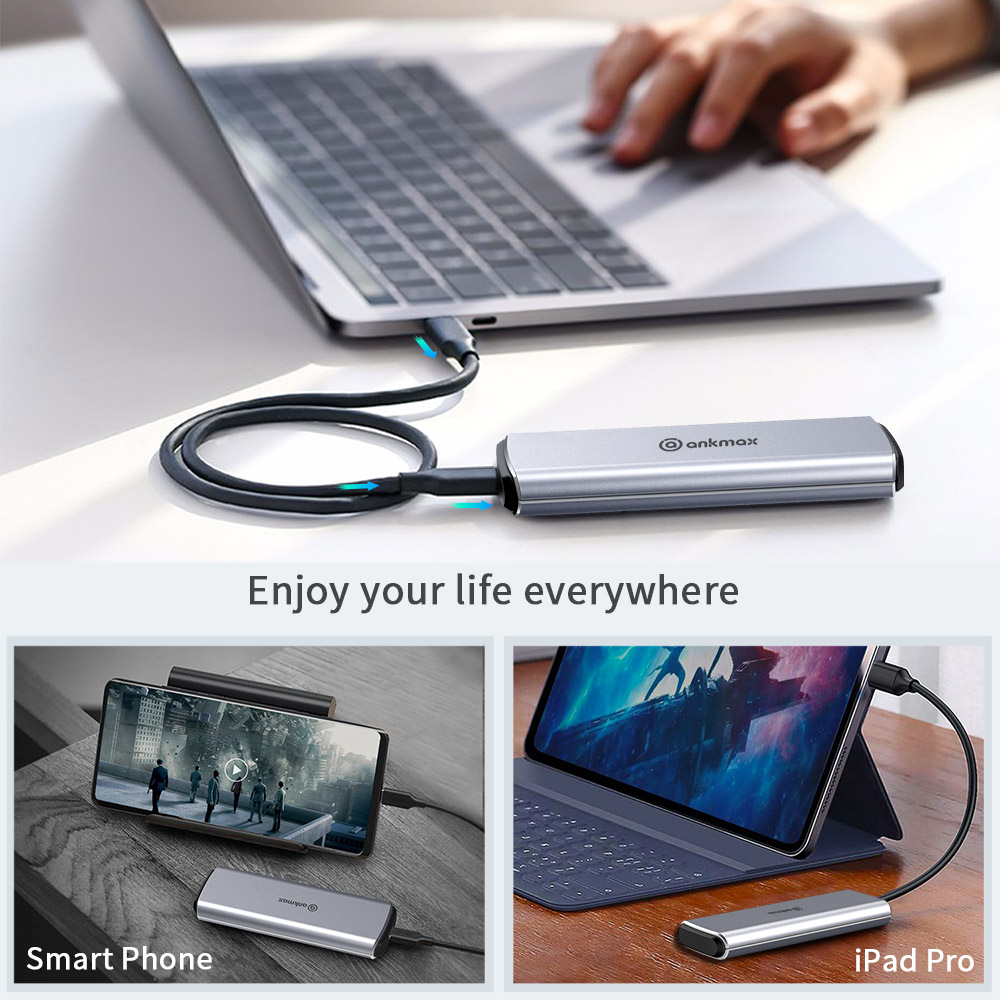 ​
​
Compatible with multiple operating systems Windows, Mac OS, Linux, Android, iOS.
​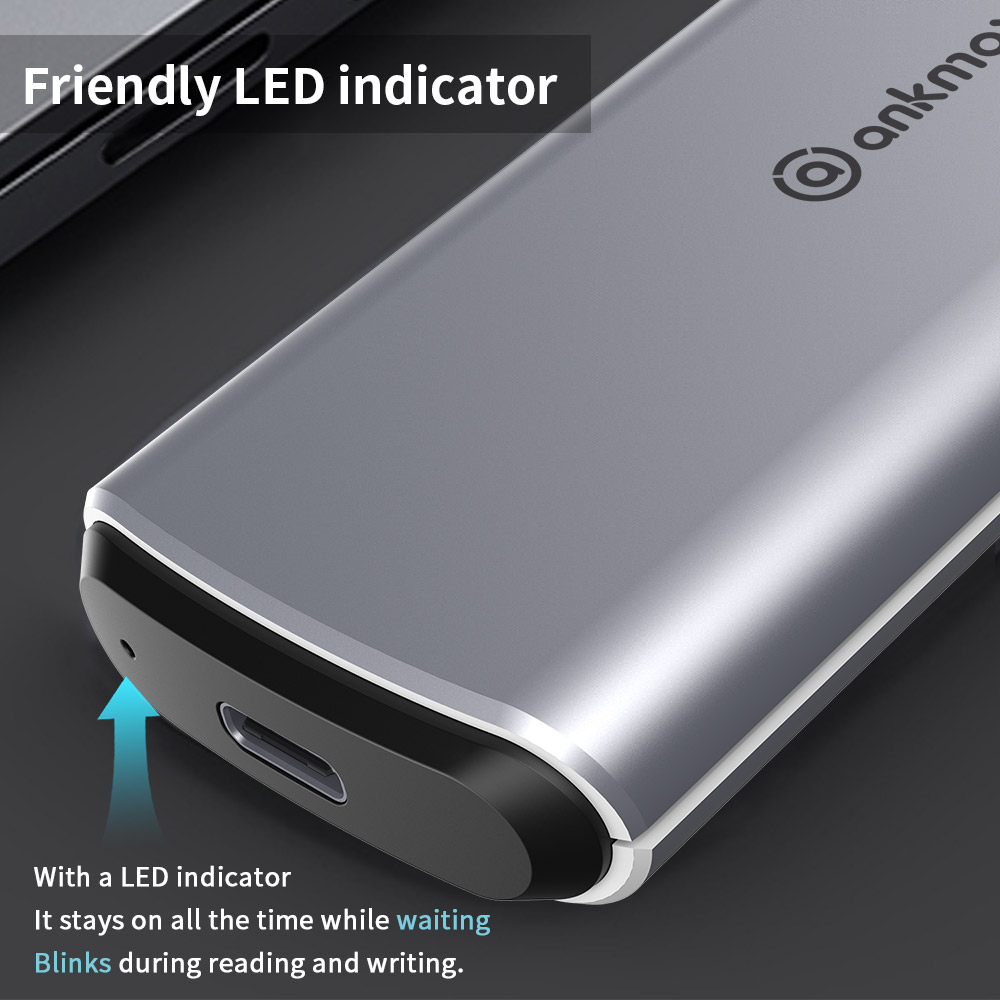 ​
Friendly LED Indicator
With a LED indicator. It stays on all the time while waiting. Blinks during reading and writing.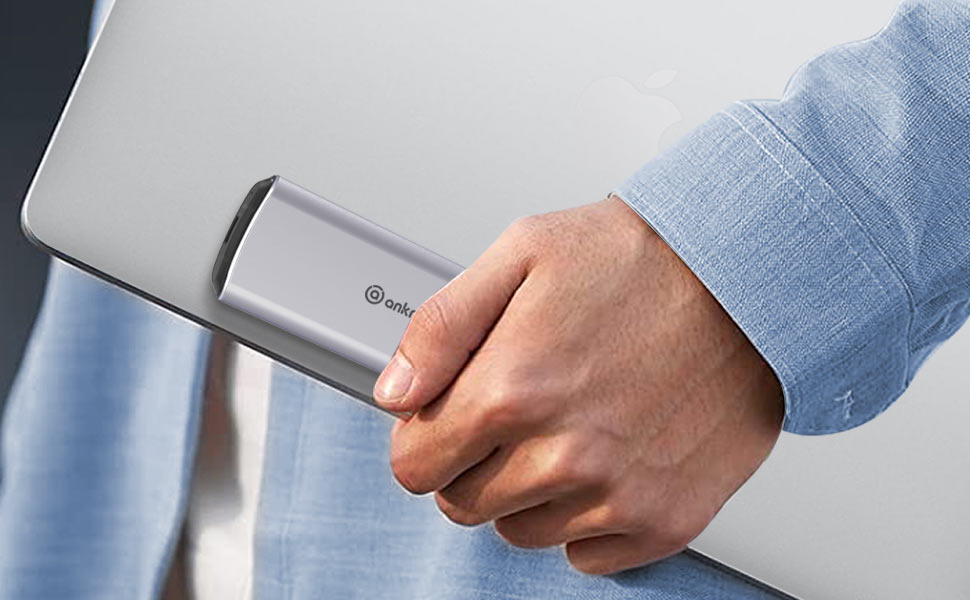 Slim and Compact Design
Portable yet durable, ideal for traveling.Convenient size to carry wherever you go.
​
Quality Guarantee
12 months quality guarantee, stable output, high temperature protection, over current protection and short circuit protection.You can also register the product on the official website of ankmax and get a total of 24 months of warranty.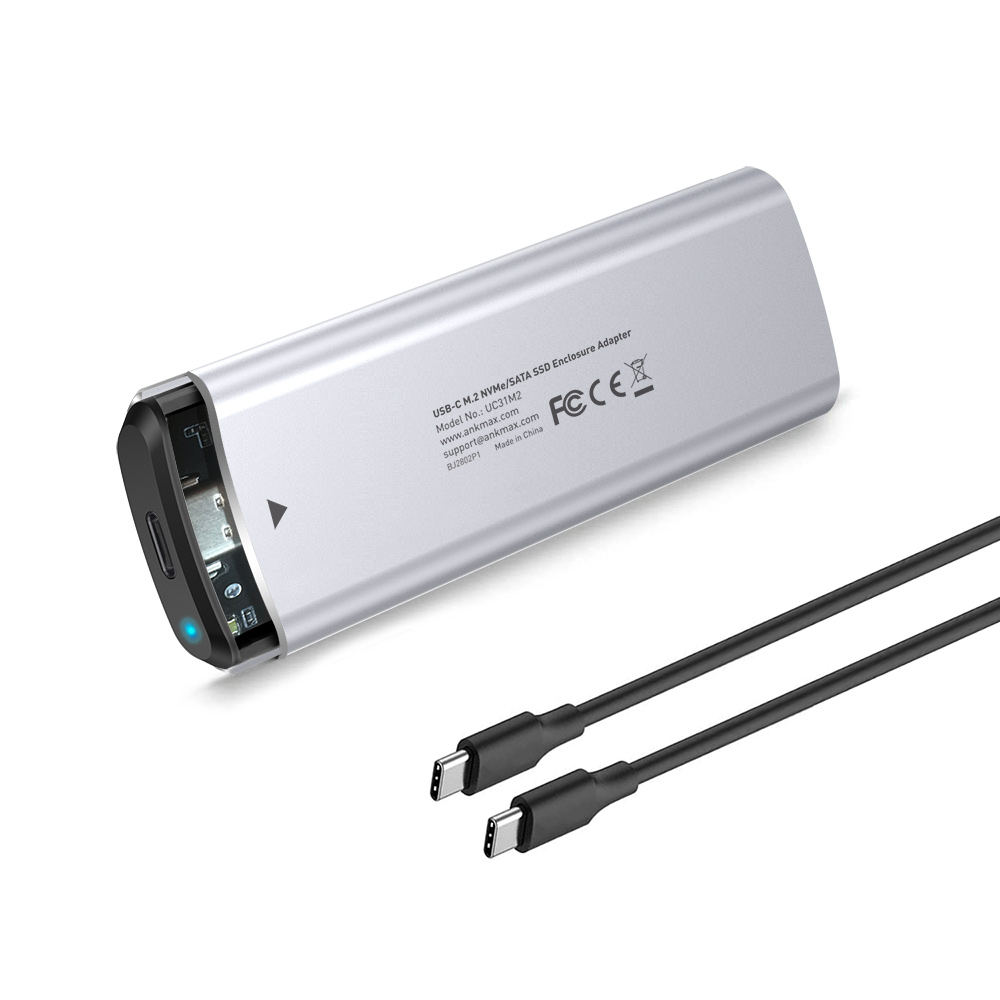 ​