macOS 12 Monterey, Apple's next-generation macOS brings the latest user experience
macOS 12 Monterey - apple's next-generation macOS.
Compared to macOS Big Sur, macOS Monterey is a smaller update, but there are still many notable new features that improve the Mac experience.
​
 
Universal Control is perhaps one of the biggest updates, allowing a single mouse, trackpad, and keyboard to be used across multiple Macs and also the iPad for moving content between devices. 
A single keyboard and mouse or trackpad now work seamlessly between your Mac and iPad — they'll even connect to more than one Mac or iPad. Move your cursor from your Mac to your iPad, type on your Mac and watch the words show up on your iPad, or even drag and drop content from one Mac to another.The prerequisite is that all devices are logged in with the same Apple ID.
​ 
There's also a new AirPlay to Mac option for AirPlaying movies, games, photos, and more from the iPhone or iPad to the Mac, plus the Mac can be used as a speaker for multiroom audio.
​
 
Safari has an updated tab bar that better blends into the background and Tab Groups for grouping your open tabs together to make it easy to swap between different tasks without having to lose your open tabs. Tab Groups sync across all of your devices and can be shared.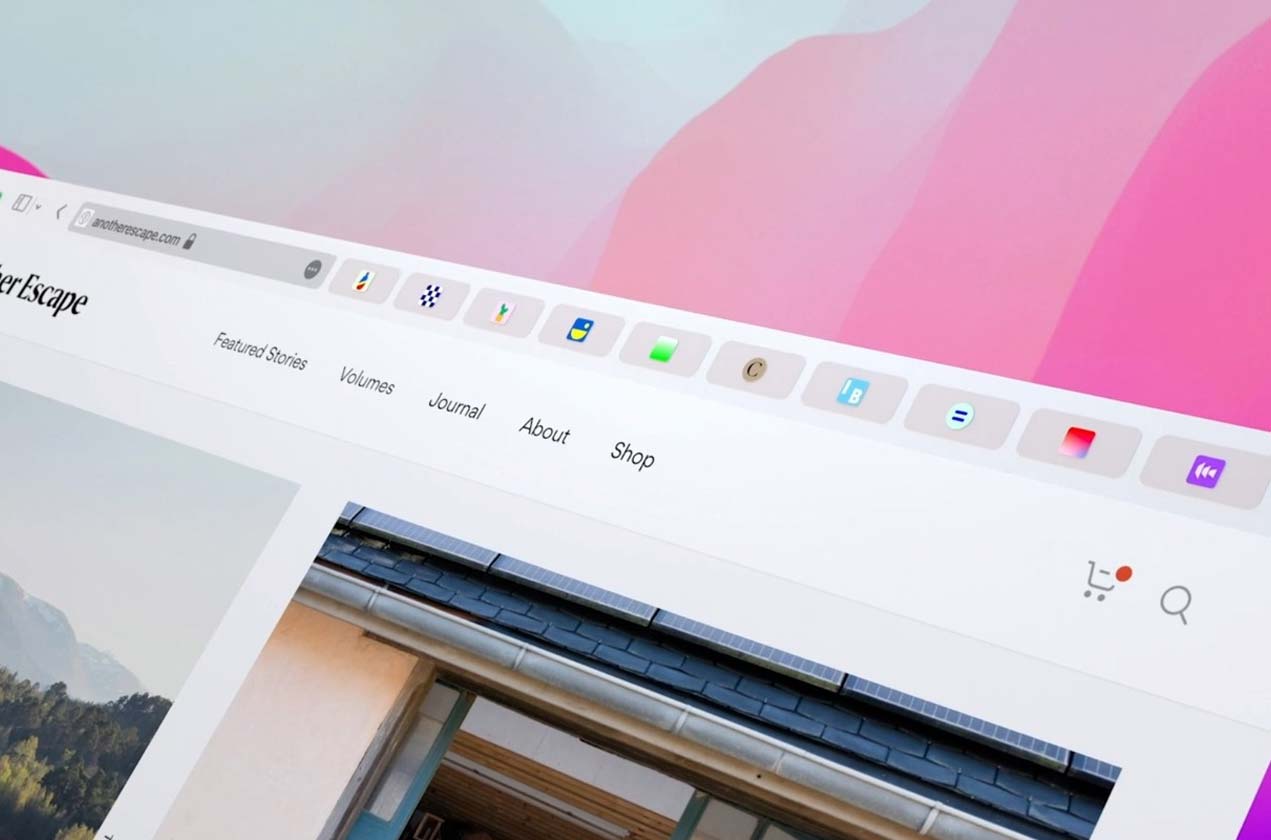 ​

FaceTime supports spatial audio so voices sound like they're coming from where the person is positioned on the screen, and Voice Isolation cuts out background noise. There's also a Wide Spectrum sound mode for when there are multiple call participants in the same room. Portrait Mode blurs out the background behind you, much like the iPhone photos feature.
With the new SharePlay feature, users can watch movies and TV shows, listen to music, and share their screen with friends and family in real time all using FaceTime, with support also available for third-party apps. Shared With You in Messages keeps track of content people send you, saving it in Photos, Safari, Podcasts, News, and Apple TV.
​


The iOS Shortcuts app expands to the Mac with macOS Monterey, so all of your iPhone shortcuts (and more) will be available on the Mac. Apple has designed a gallery of pre-built shortcut options, and the Shortcuts app is integrated throughout macOS for running shortcuts from the menu bar, Finder, Spotlight, Siri, and more.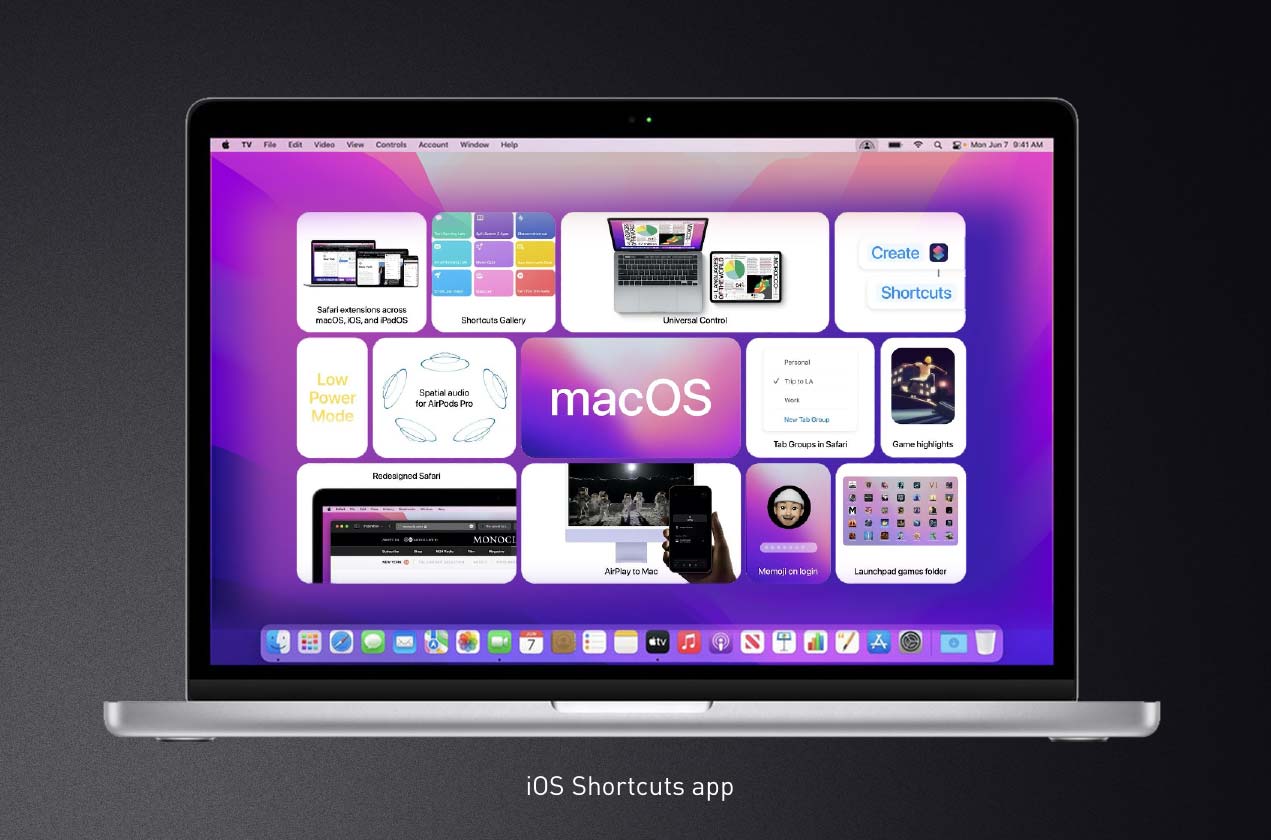 ​
Focus, also available on iOS, is designed to help you stay on task with modes for Work, Personal Life, and more, plus customizable options. Focus basically filters out notifications unrelated to your current activity, and lets people know you're unavailable. Focus set on one device syncs across all devices.
In the Notes app there's a Quick Note option for jotting down notes in any app or while visiting any website, and Quick Note supports links from various apps. Notes has new collaborative features with mentions, an Activity View with edit history, and tags for organization. The Maps app has an interactive globe that can be used to explore different locations on Earth.
With Live Text, Macs use on-device machine learning to detect text in photos, which can be copy pasted or otherwise interacted with just like typed text. Visual Lookup uses machine learning to provide details on animals, art, landmarks, plants, and more in photos, with these two features available across macOS.
Apple upgraded its paid iCloud plans to iCloud+, adding iCloud Private Relay to hide your browsing habits and IP address from third parties. iCloud+ also includes a Hide My Email feature for keeping your email address private, and expanded HomeKit Secure Video support.

There are other major new privacy features such as Mail Privacy Protection to prevent emails from using tracking pixels, and the Mac recording indicator now lets you know if a Mac app is using the microphone.
On M1 Macs, the AirPods Pro and AirPods Max offer Spatial Audio, and there are new Accessibility options. Note that there are multiple macOS Monterey features limited to M1 Macs, such as Live Text, Portrait Mode for FaceTime, detailed Maps, on-device keyboard dictation, and unlimited keyboard dictation.
There are multiple macOS Monterey features that are unavailable on Intel-based Macs and work only on Macs that are equipped with an Apple silicon chip.
See a full list of what's new in macOS Monterey.See if your Mac can run macOS Monterey ?

Compatibility
macOS Monterey is compatible with many of the Macs that were able to run macOS Big Sur, but it drops support for some older MacBook Air and iMac models from 2013 and 2014.
•    iMac - Late 2015 and later
•    iMac Pro - 2017 and later
•    MacBook Air - Early 2015 and later
•    MacBook Pro - Early 2015 and later
•    Mac Pro - Late 2013 and later
•    Mac mini - Late 2014 and later
•    MacBook - Early 2016 and later
Related Articles:
Apple released the most powerful 14-inch and 16-inch MacBook Pro