Ankmax P631HG USB C Hub Ethernet Adapter
USB type c hub [1Gbps LAN / 4K HDMI / 60W PD quick charge  / USB3.1  * 3], Type C hub Wired LAN adapter, High speed data transfer Aluminum compact USB hub Compatible with MacBook Air / MacBook Pro / Surface GO / Chromebook / Samsung Galaxy Tab Pro / HP Specter / ThinkPad / Huawei Matebook / IPad Pro
Main Features and Benefits
Connect to up to 6 devices simultaneously. You can connect one USB-C PD port to three USB3.1 (Gen1) ports, one HDMI port, and one Ethernet port simultaneously.
Achieves clear and vivid image quality. Output as 4K HDMI video.
Enables fast and reliable Internet connection. It is equipped with a 1 Gigabit Ethernet port.
USB3.1 (Gen1) high speed data transfer. High-speed data transfer of 5Gbps such as videos and music is possible.
Allows optimized simultaneous charging. Supporting USB C PD port, USB HUB can simultaneously provide 60W power charging to various devices.
USB3.1 (Gen1) High-speed Data Transfer
USB3.1 (Gen1) Data transfer speed up to 5Gbps, Type C hub about 10 times faster than USB 2.0 (up to 480Mbps). Transfer large HD movies, work files, souvenir photos and more in just a few seconds. You can save more time. With the USB-C connector, the USB port is expanded to three, and by adopting up to three USB ports used in various devices, multiple USB devices such as USB memory, mouse, keyboard can be connected at the same time .. You can transfer videos and data at high speed.
HDMI 4K High Definition TV output
 The HDMI terminal supports resolutions of 4Kx2K (3840x2160) @ 30Hz / 60Hz. Compatible with HDMI compatible TVs / monitors / projectors for video and audio transfer. It also has backward compatibility and supports HD resolutions such as 1080p and 720p.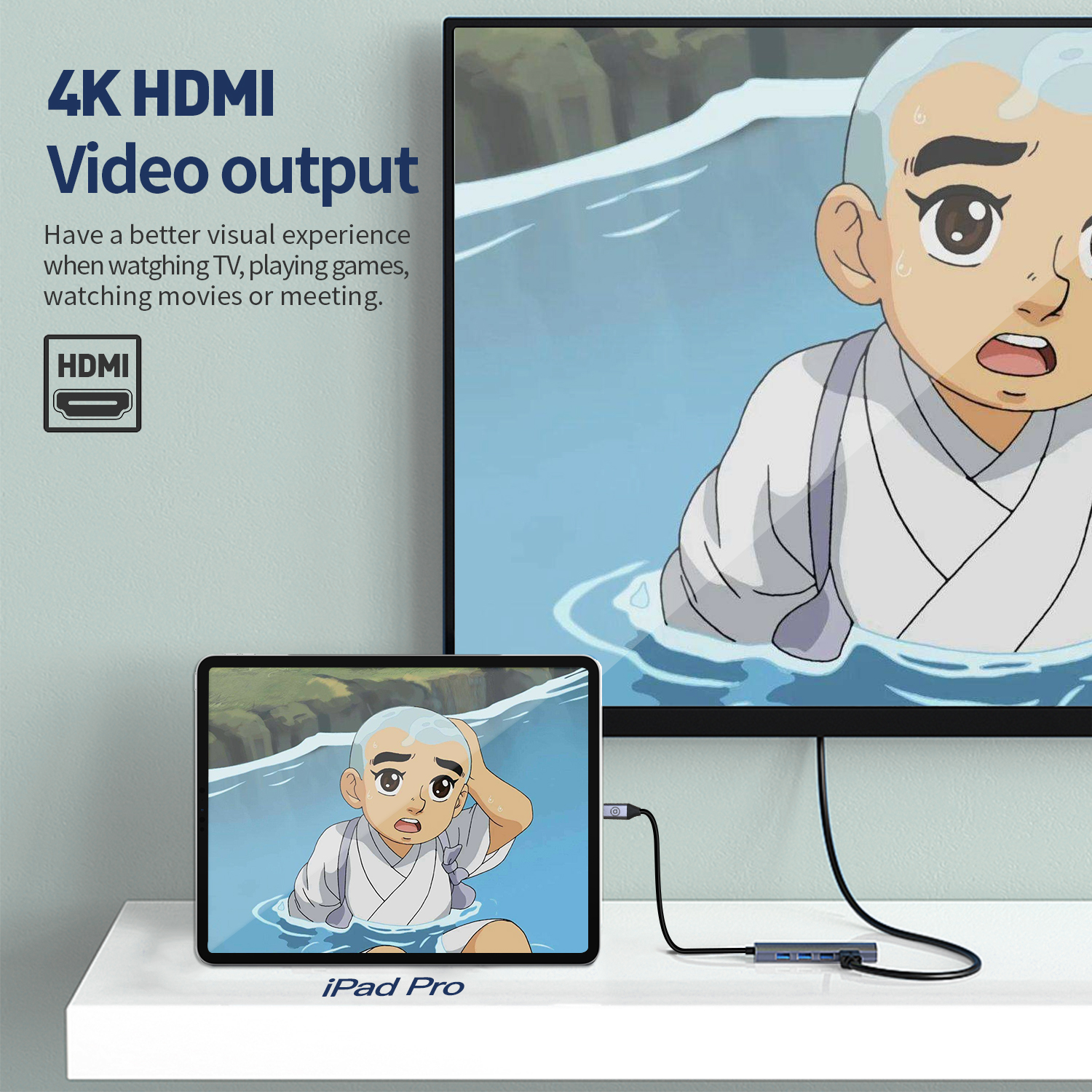 Fast Video and Audio Playback
Easily stream sports events, watch movies, games, view photos / albums from your mobile phone, tablet, or computer, without worrying about Wi-Fi cast issues. .. You can enjoy big screen viewing with your family and friends on the big screen. You can enjoy an interesting game. It is a necessary item for meetings and classes.
1000Mbps Compatible Gigabit Wired LAN
[Ultra-fast Ethernet]
Ethernet RJ45 LAN port supports communication speed up to 1000Mbps. You can build a stable network even when the wireless LAN is unstable. The Gigabit Ethernet port provides access to SuperSpeed ​​network speeds. In areas without WiFi, the product can connect to networks, transport large amounts of video files, and download software upgrades over wired home or office LANs.
[Plug & Play]
A system that can be used immediately by inserting it without a driver: Win8 / 10, Mac OsX 10.6 / 10.6 or later. High-speed network connection can be easily achieved. In addition, our wired lan adapter can support crossover detection, automatic correction, Wake-on-LAN (WOL) / Full-Duplex (FDX) / Half-Duplex (HDX) Ethernet, and back pressure routing.
Higher Speed and Stability than WIFI
USB 3.1: Can support 1000 BASE-T with data transfer rate up to 5 Gbps.
Stable: Communication speed can be controlled automatically depending on the internet environment.
* During use, there may be a slight difference between the actual transmission speed and the theoretical value depending on the Internet environment. A LAN cable of CAT6 or later is recommended.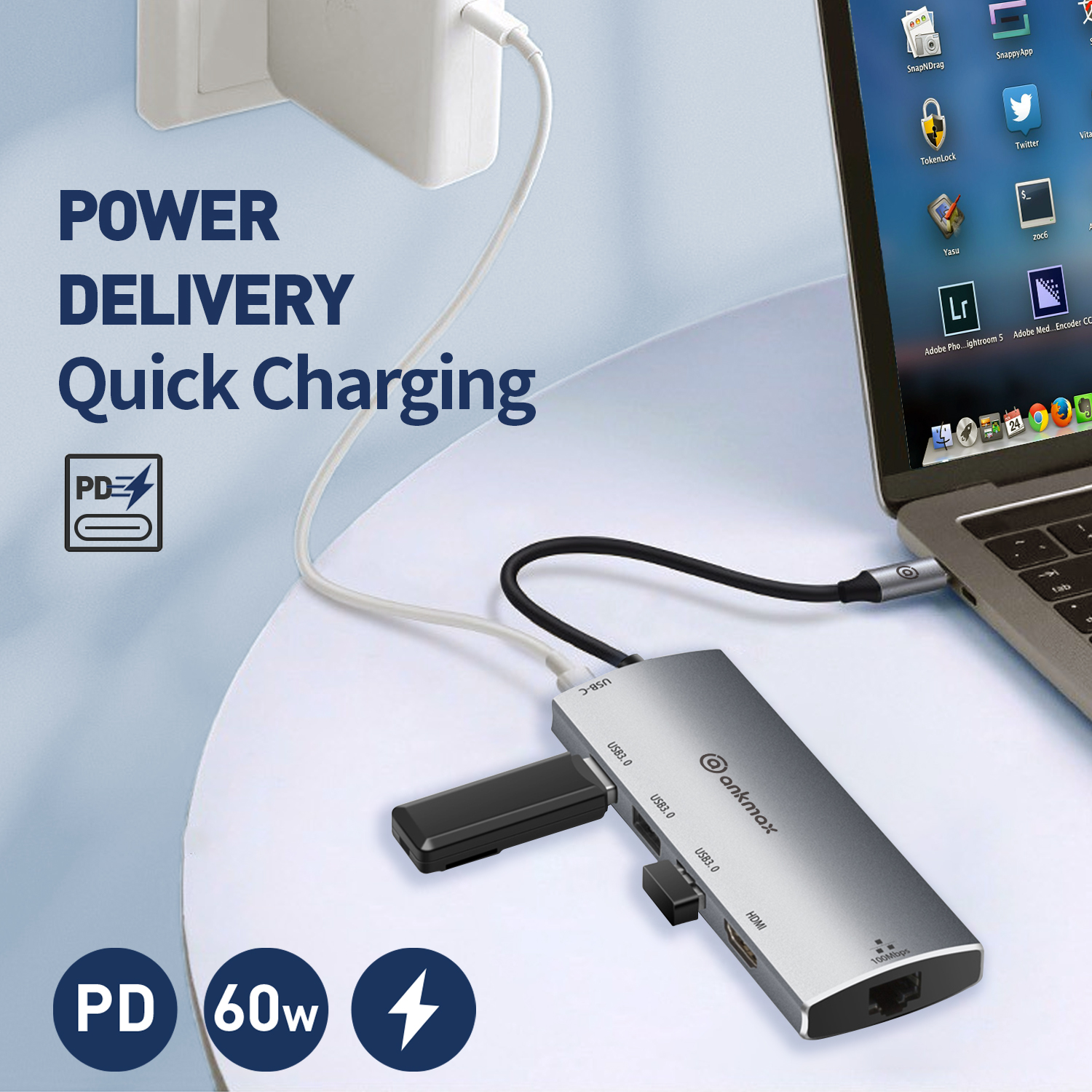 POWER PRIORITY Technology
Ankmax Power Priority technology charges each device most efficiently while simultaneously assessing and adjusting the power delivery status of the USB-C device.
1. Recognize the USB-C device connected to the dock.
2. Evaluate the power requirements for each device and prioritize host devices.
3. Distribute the available power according to the needs of each device.
4. Continues the evaluation according to the state of charge of the device and supplies the optimum power.
Broad Compatibility
The type c adapter works well with USB-C 3.1 port (Thunderbolt 3 compatible) devices. MacBook 2018/2017/2016 / pro 13 / pro 15, Xiaomi Notebook, SAMSUNG, Dell, ThinkPad, HuaWei MateBook, HP etc. Since it does not require an AC adapter, it can be carried and used on the go. Bus power is enough to connect devices with low power consumption such as mouse, keyboard and USB memory.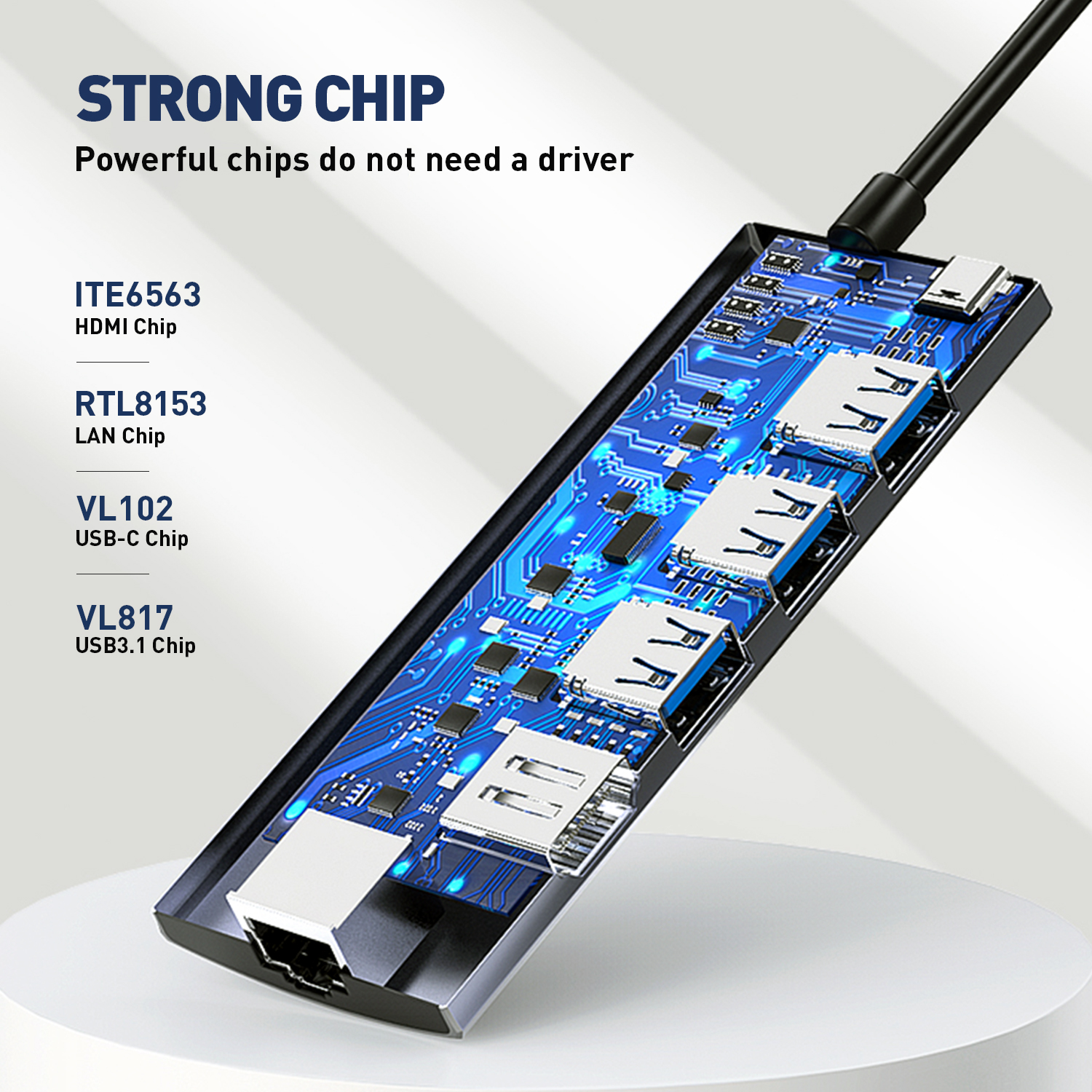 12-month Quality Guarantee
CE, FCC, RoHS certified to ensure safety and security. It has a stable output, high temperature protection, overcurrent protection and short circuit protection. Aluminum alloy exterior is helpful for heat insulation, reinforced TPE cable coating is good to prevent interfere with wireless devices.We have a 12 month warranty and if you have any questions, please contact us.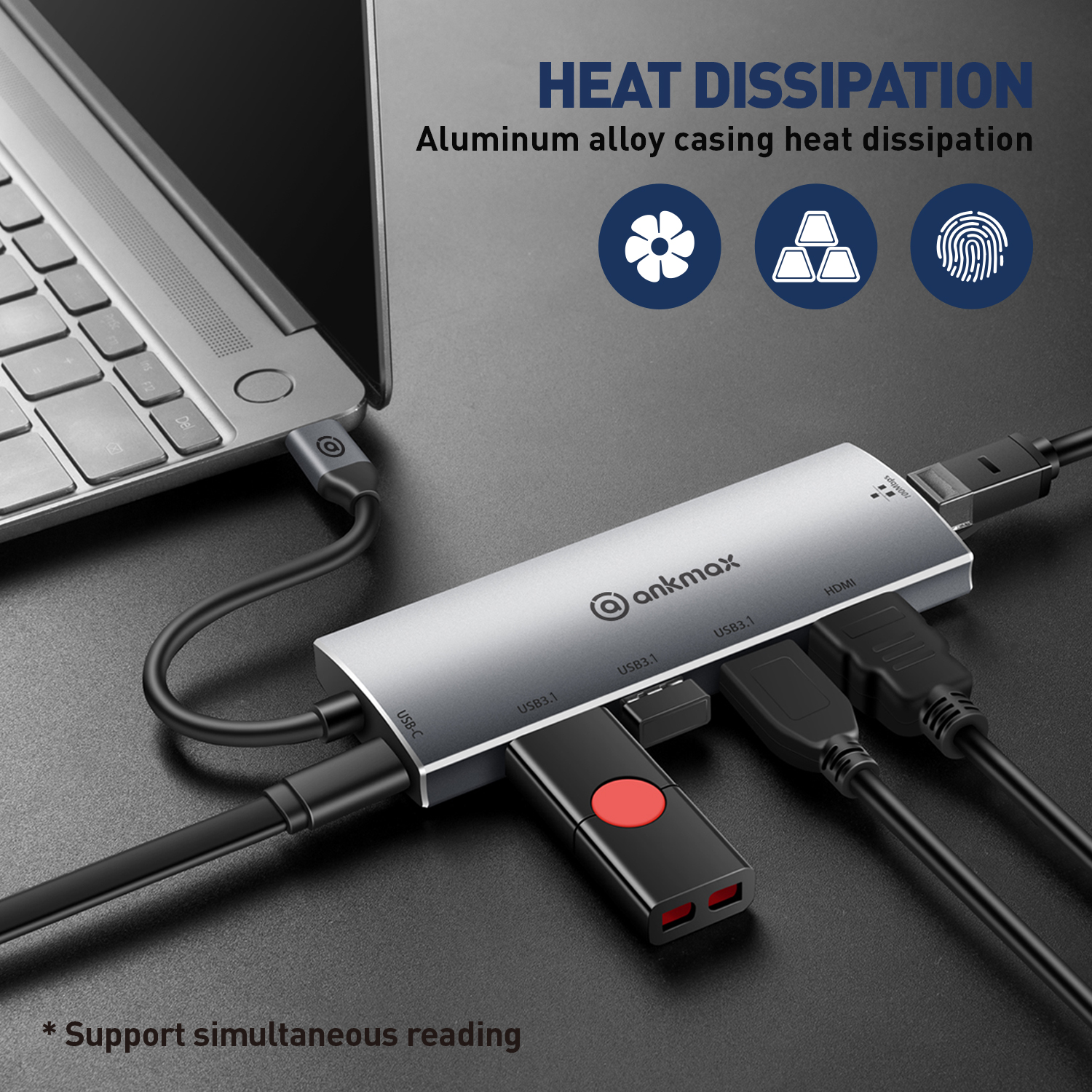 Bring Elegance & Functionality Together
Ankmax P631HG USB type C to HDMI 4K Adapter. Design is the kernel of Ankmax. This tiny adapter is the combination of exquisiteness and functionality. The adapter is coming with metallic minimalist scheme and polished anti-slip raised.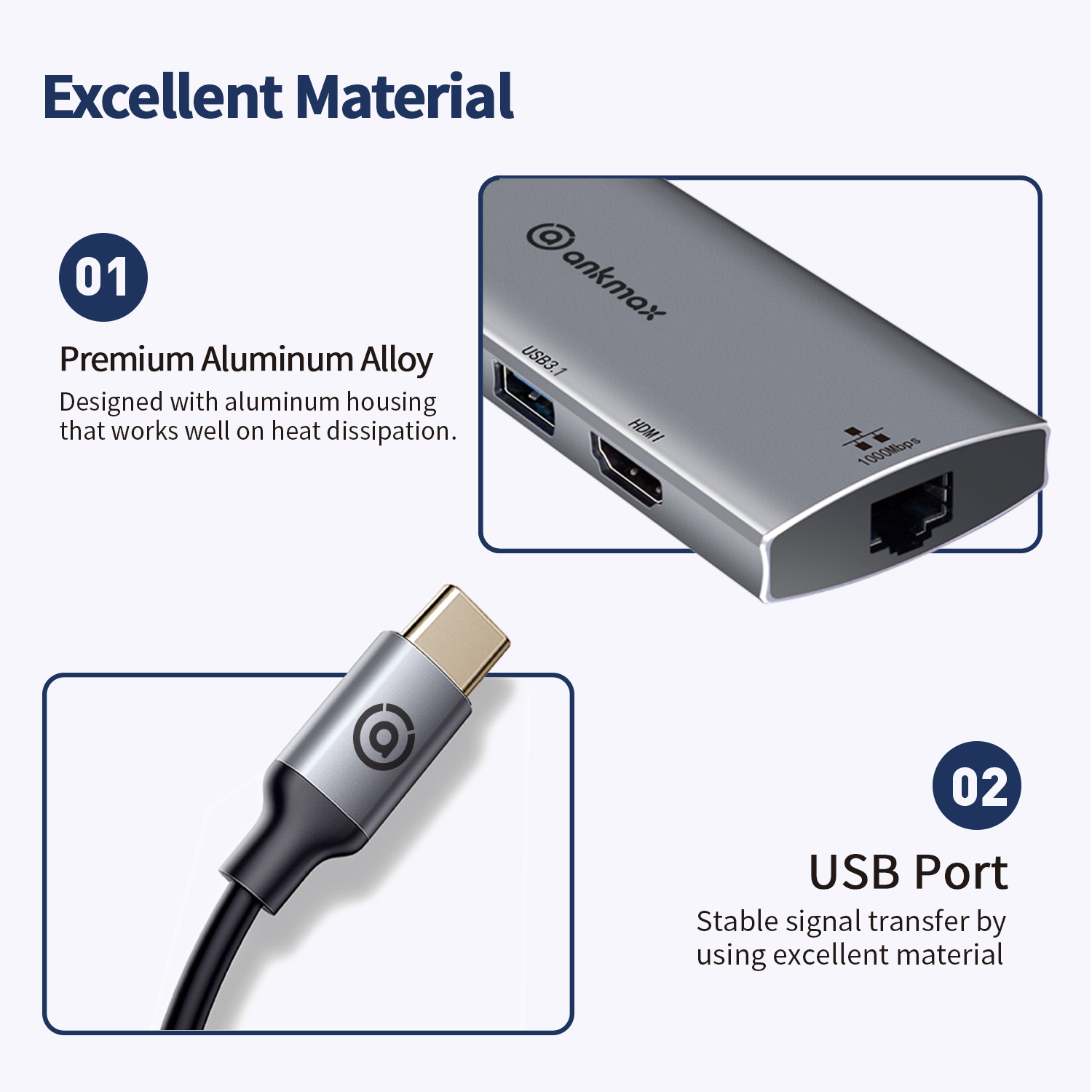 Lightweight & Compact
Small size, light weight, and easy to carry: The quality of high quality aluminum is good, and it has high quality and durability. Compact design that fits in the palm of your hand, ideal for work, home, and portable, a must-have item when traveling or on a business trip.